Our orientation week in Ouagadougou allowed us to acclimatise to our new surroundings: five days were dedicated to French and Moore (the local dialect) lessons; meeting members of other NGOs based here in Ouagadougou; and learning more about the history and culture in Burkina Faso. We also found out more about Tigoung Nonma, the co-operative that we will be working with over the next three months.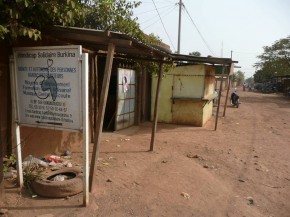 On Wednesday we visited the Tigoung Nonma 'headquarters'. After turning off the main road into a dusty street scattered with stalls, shops, old cars and many staring faces, we were greeted by a fabulously dressed woman. Zenabou, the General Secretary of Tigoung Nonma was dressed in a deep yellow and green two-piece skirt and top, with a matching head turban.
She led us into a tiny room where the majority of space was occupied by a large desk full of papers and on top of which was what appeared to be the first computer ever invented. Crafts were stacked up in all corners of the room. We used every inch of space to fit the eight of us in, along with five members of Tigoung Nonma. Two members of the team participated in the meeting through the doorway.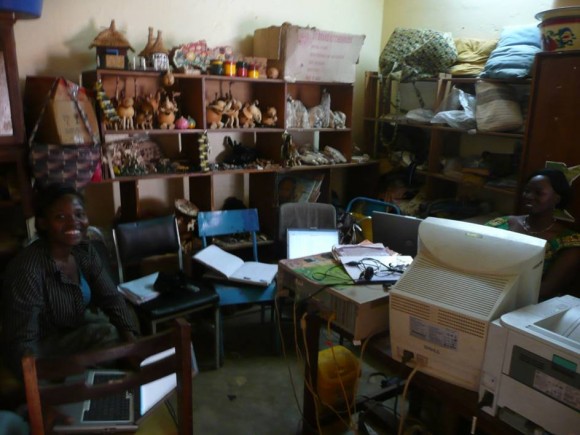 We discovered that Tigoung Nonma was created by artisans with disabilities, as an offshoot of 'Handicap solidaire Burkina Faso' (French website) - an advocacy group for people with disabilities.
The co-operative works with 64 artisans in order to respond to their needs, promote their work and, crucially, create selling opportunities - all while raising awareness of the benefits of fair trade in the national and international market. Whenever they have the time and the funds, each artisan brings his or her products to Tigoung Nonma in the centre of Ouagadougou. The co-operative believes that the artisans should receive a fair price for their intricate and skilled work; therefore each member receives 80% of the sale price of their goods.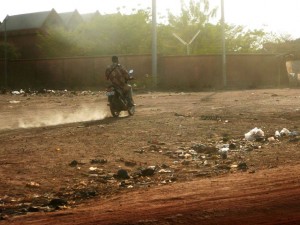 Following on from our visit, four of the key board members from Tigoung Nonma met with us again a few days later to discuss our objectives and work over the next three months.  As we finished early we spent about an hour chatting. I was sitting next to the fantastically named vice president, Evariste.
At first I felt a little restricted by the language barrier, but I have taken the stance that I should embrace the embarrassment that will follow my 'French'. I started chatting with Evariste and by the end of the hour I felt that he and I had really bonded. He taught me many new, exciting words and phrases in Moore, including, "Wend na ko sid songa" which means, "God willing one day I'll get a good man".
Like the rest of the members of Tigoung Nonma, Evariste is physically disabled: he has no legs. Due to lack of education and the stigma associated with physical and mental disability in Burkina Faso, living with a disability like Evariste's makes it near impossible to find work. It's why organisations such as Tigoung Nonma are so crucial for the country.