This dreary February has been brightened up for me by my new-found joy and addiction to 'Borgen', the Danish political thriller with a wonderful, powerful woman Prime Minister. It's even better than my other, and laugh-out-loud, favourite, 'In the Loop'. But neither captures the sheer physical hard work that comes with being at the top of the political game.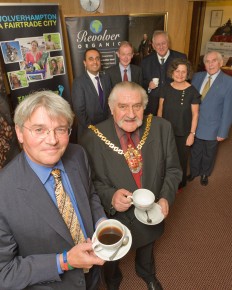 Last Friday I went to a meeting with the Fairtrade group in Wolverhampton, attended by the Secretary of State for International Development, the Rt Hon Andrew Mitchell MP. He admitted that his day had started 23 hours before when he boarded a plane in Indonesia. He was remarkably chipper for such long hours – although he did look very relieved to be given a cup of Fairtrade coffee from Revolver World, a  local pioneering ethical company.
When the Secretary of State wanted to visit a Fairtrade group in his constituency in the build-up to Fairtrade Fortnight, we knew just where to go – the Wolverhampton Fairtrade group is famed for its great organisation. And their reputation is justly deserved. Packed into the Mayor's Parlour was the woman who works with schools (the little ones "just get it", she says); people from all the many faith communities, from the local authority, the university,  and local businesses including the Co-op; three MPs and a Lord; and even members of the Wolverhampton Amateur Boxing Club. Excitingly enough, the Club is hosting boxers during the Olympics. Given that all the tea and coffee, sugar and bananas at the Olympics venues will be Fairtrade, it's great to know that the standard will be maintained for the boxers going up North too!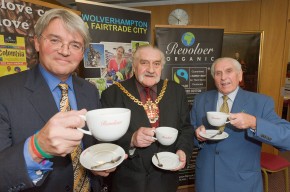 Wolverhampton is part of the growing Fairtrade grassroots movement that has 535 Fairtrade Towns (there are 1,080 internationally), 720 Fairtrade Schools (with a further 5340 working towards the goals), 155 Fairtrade Universities and Colleges, and  7000 Fairtrade Faith groups. In Wolverhampton, as in so many groups I visit,  it was a pure pleasure to see the whole community pulling together behind the goal of Fairtrade with such a positive spirit.
It's certainly the big society in action - and it is equally surely people with very big hearts who are emphatic in their desire for greater fairness. People want businesses to behave responsibly and fairly - including in the way they buy from farmers and workers overseas. Which is why Fairtrade is growing despite people feeling the pinch.
The annual Fairtrade sales figures, released today, show that sales grew by 12% last year, hitting an estimated retail value of £1.32bn. The surprise Fairtrade favourite is now sugar. In fact, 42% of all the sugar sold in bags in our shops is Fairtrade certified. That is thanks to major commitments from companies like Tate & Lyle and Sainsbury's, with Morrisons today switching all their sugar to Fairtrade. Also key has been the commitment by Cadbury Dairy Milk and Kit-Kat four-finger. Their significant commitments are enabling Fairtrade to have impact at scale: today nearly 40% of all Belize's exports is Fairtrade sugar. That is enabling the farmers to invest in everything from school grants to a cane re-planting programme. By repairing roads, the farmers are now able to get their cane to the mill quicker and so have increased sugar output by 30%. In total in 2009/10, producers earned over €51.5 million in Fairtrade premiums, for investment in their own business and community developments.
Today is the start of Fairtrade Fortnight, the Fairtrade Foundation's annual two-week awareness-raising campaign. This year we are asking everyone to Take a Step for Fairtrade - anything from buying a Fairtrade product to talking about Fairtrade at the school gate - and then register it on our step-o-meter. The 1.5 million step target figure represents one step for every farmer and worker with whom Fairtrade plans to work in 2012. The Secretary of State was quick to pick up the challenge. Always a keen advocate of a fairer deal for developing world cotton farmers (who are hit by EU and USA cotton subsidies to their own farmers) he declared that he would wear a shirt made of Fairtrade cotton to Parliament one day during Fairtrade Fortnight.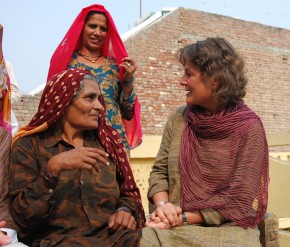 It is a million such small steps that can add up to big changes. In January I was in Sri Lanka visiting the Small and Organic Farmers' Association - or SOFA - whom I last visited ten years ago. Then, it had 300 members with scraggly plots and had only sold a little Fairtrade tea. Today, SOFA has 2,300 members selling all their tea as Fairtrade and last year received a combined spices and tea premium of almost £136,000. With this amount they have improved productivity, distributed thousands of tea plants, and diversified into spices. In these gardens of Eden on one-acre farms, they showed me turmeric and ginger growing knobbly roots in the ground, peppers hanging from vines twisting up palm trees, lemongrass, succulent vanilla pods dangling down, cloves and cardamom, bananas and so much more. The leaders of SOFA are so proud of all their achievements as they run through the long lists of change: they have built a bridge over a small stream, so enabling the pick-up lorries to go to the farm and saving the farmers long carrying journeys; had agricultural training, leadership and computer courses; invested in water supply for their farms and drinking water for people; and given books to the school children. They have also set-up self-employment schemes for women many of whom now make raffia boxes in which the Fairtrade peppercorns are sold.
This is just one of myriad inspiring stories that show how, through Fairtrade, smallholder farmers can become successful businesspeople - and how business here can play its part in helping tackle poverty. This Fairtrade Fortnight, Sainsbury's and Waitrose are marking five years of selling only Fairtrade bananas. The Co-op is joining this special club, while M&S is launching a new Fairtrade tea packed for the first time in Kenya, thanks to the DFID Food Retail Industry Challenge Fund (FRICH). Such businesses are stepping up to their responsibilities. But there is still so far to go if we are to tip the balance of trade in favour of disadvantaged farmers and workers in developing countries. Which is why we hope everyone will indeed Take a Step this Fairtrade Fortnight.
---
Please note, this is a guest blog. Views expressed here do not necessarily represent the views of DFID or have the support of the British Government.
You can see how UK aid is changing lives and helping the world's poorest people on our Facebook page.