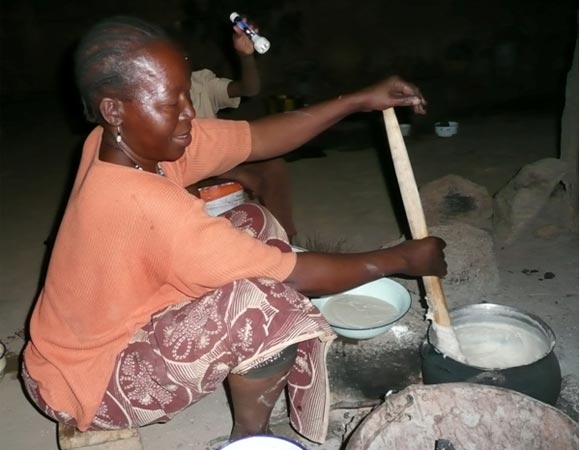 There are seven of us (if you don't count Lemon, Lime and Grape - our three 'pet' geckos that live behind the curtain) living in a simple yet spacious house in south-east Ouagadougou.
We do not have hot water but, in the 35 degree (and rising) heat, this is not something that I will miss. I can already sense that we live within a very tight-knit community and I am sure that the majority of people here know exactly where the 'nasarahs' (foreigners) live.
We have been spending some of our free time next door, at the house of a family of nine Burkinabes. This morning, Lorintine, the mother of the family, called me over, "Pu Neere!" (my flattering nickname in Moore), and offered me a strawberry that had been freshly picked from their small piece of land a 20-minute walk away.
Often myself and the other volunteers will go over to chat to Lorintine and her four youngest children while they stand by their wooden table on the dusty road, selling small bags of peanuts. Despite always looking exhausted (and who wouldn't, with four young children to look after, seven mouths to feed, and no running water or electricity?) Lorintine is always extremely welcoming. Within ten minutes she will invite us onto her land, whilst urging her children to get out the good plastic chairs (which probably fill one of the three single-room buildings that cover her small square of dry land).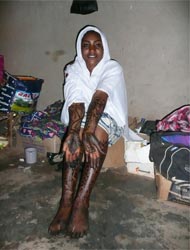 Lorintine's husband and her three older children work long hours, six days a week. Her oldest child, Blanche, had to move 150km away at the age of 20 to live by herself and work as a nanny/midwife.
I was able to meet Blanche on one of her rare visits home and she kindly offered to take me to a local Muslim wedding. The rest of the volunteers were feeling quite tired and so at about 7.30pm I went alone with Blanche and her two friends.
I didn't have any idea where the wedding was, so I was surprised when we wandered into the backyard of a local house. Outside on the dusty cement, 20 people were sitting, chatting and eating. Someone was banging a large cadavas drum and children were dancing - with the impressive rhythm that I have grown to expect here.
Through the clouds of dust I saw that everyone was dressed quite smartly and I felt relieved that I had wrapped my only African material around my waist.
We went into a small room within a simple grey building. In the corner, an old woman sat on the floor with a large plastic bowl. She was surrounded by young women standing and laughing. I was introduced to the bride, Jarmarra. To my dismay, I realised I had no idea how to say "congratulations" and so had no option but to resort to smiling horrifically and blurting out my best French greeting.
Blanche told me to take a photograph. Being quite aware that the whole of the party was now watching me rather than the bride, I was eager to disappear into the background; however, not wanting to be rude, I did as I was asked. It turned out that Jarmarra loved having her photograph taken and so I was asked to take individual pictures of the bride with each and every family member.
Having shaken hands with a lot of people, eaten a cake made out of ground green beans from the old woman in the corner and realised that I was the only one who had not taken my sandals off at the door, Blanche finally led me back outside, where the six-foot white girl was to dance...
I have visited many countries, both rich and poor, yet never before have I felt as welcome as I do here in Burkina Faso. Jarmarra's wedding and our time with Lorintine are just two examples of the warm and generous nature that I have experienced. Everywhere we go adults shout "welcome" and children excitedly come running  from their homes, eager to shake your hand. I cannot imagine that a foreigner and stranger would be treated in the same way in the UK.
With over 60 religious and ethnic groups living in incredible harmony in Burkina Faso, I believe the West and the rest of the world can learn a lot from the Burkinabe people.