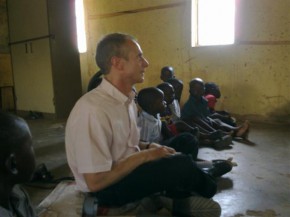 Can you remember starting school? I have vague recollections of going to St. Margaret's CoE Infant School, Durham in the early 1970s with my elder brother, when free school milk was still provided in little glass 1/3 pint bottles. Leading my eldest daughter as a toddler into Clapham Junction Asda Creche is a much more vivid memory: no tears, she didn't even look back!
There is much debate about how formally to structure pre-school education and when to start - some Scandinavian countries don't attempt to start teaching kids to read until the age of seven, but this doesn't stop them excelling when they are in their teens. What is not disputed are the benefits of some kind of reasonable quality early childhood development (ECD), especially for poorer children from families that are not able to stimulate and nurture them appropriately.
World Bank research has estimated that entrenched poverty contributes to the fact that 61% of under 5's in Sub Saharan Africa 'do not grow and learn to their full potential'. Save the Children Fund's ECD programme in rural Gaza Province in Mozambique has run since 2008 and an evaluation of its impact makes for interesting reading. It identifies specific benefits to children attending even a very low-cost programme, estimated to cost only US$2.5 per child per month (that's less than a Big Mac!). Families also gain: elder siblings have more time to attend school and mothers to engage in productive work.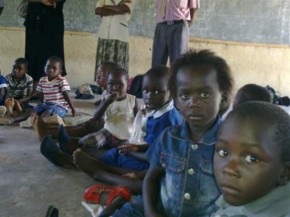 Here, across the Mozambiquan border in Zimbabwe, ECD classes for 4-5 year-olds have been spreading rapidly - despite the hard economic times of the past decade. With almost no funding from government, primary School Development Committees and local communities have been struggling to pay for ECD classrooms, equipment and teachers.
Recently I visited a small rural primary school in Matabeleland South, with 290 primary and 35 ECD students. The heat outside was oppressive, but unlike some schools, at least the bare classrooms offered a relatively cool place to learn.
The unqualified ECD teacher Mrs Margaret Nyathi had taught since 1995 at the school. Despite being a single mother of seven, she acts in effect as an unpaid volunteer, receiving only around US$10 a month. A levy of $5 per term for ECD pupils was set, but few parents paid this. Despite her services being undervalued, Mrs Nyathi is clearly committed to the young children and led them professionally in games and songs. It was humbling to join in, sitting cross-legged on sacking on the dusty floor.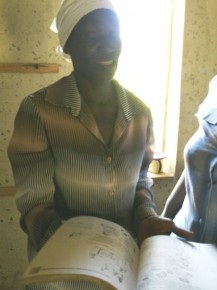 The Zimbabwe government is struggling to raise the salaries of formally qualified school teachers – in unionised pay negotiations a 'living wage' is much debated. Mrs Nyathi receives only a small fraction of this, despite putting in similar levels of effort and devotion to her young wards.
Few nations, even in developed countries, can afford free schooling from pre-school to tertiary studies. What is becoming much more evident in low income countries is the long-term effectiveness of ECD provision. Policy makers continue to face strong pressures to publicly fund post-basic education for better-off families - the sad reality is that many children of the poor drop out long before completing primary education, and so the cycle of poverty continues.