It's difficult to grasp that we're now over halfway through our stay in this exciting city. The time has passed so quickly, yet preparing for my departure from leafy Surrey feels like a distant memory now.
We travelled to Lake Langano last weekend for our mid-programme review, during which we reflected on our progress so far and made plans for the coming weeks. The water at the lake is brown: one of the UK volunteers joked that it was a little like the Thames. This same water came out of the taps and the shower, along with the odd creepy-crawly.
Yet everyone enjoyed meeting up: it was a great opportunity for the team to unite and relax and to review how things are going. Life in Addis can, after all, be tiring and frustrating at times.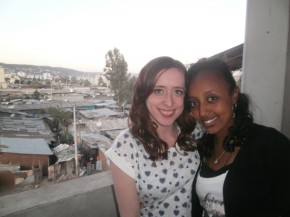 These feelings can certainly be evoked when teaching a class of 50 Grade 5 and 6 pupils in a government school, where the students come from very poor backgrounds. But this can also be hugely rewarding: despite the fact that many of the children have ripped uniforms and dirty faces, they are largely very eager to learn. In our last class, my work partner Hana was forced to hold the door closed, to prevent a flood of children from entering our classroom.
Although students here do seem to be more enthusiastic generally about their schoolwork, our lessons are also popular because it is extremely rare to see a 'ferengi', or foreigner, in a government school. In all three of the schools we teach at, the children unashamedly stare and point at me.
After our first lesson in one of the oldest and poorest government schools, Hana, who's my national counterpart volunteer, commented on the holes in the classroom walls and the students' poor behaviour, admitting that she didn't know a school like this existed in Addis. She thought that these were common in rural areas only.
This seemed to confirm my initial impression that the national volunteers live in a different world to many other Ethiopians. Opening their eyes to the extent of poverty around them, and perhaps prompting them to help make improvements on a more long-term basis, is, I think, the most sustainable change that can be effected by ICS.
Although some of the inefficiencies of the public sector have provided some stumbling blocks (which the national volunteers have said is one of the things they hate about their country) Hana and I are on track with our baseline survey. We have finished writing our questionnaires for the students, teachers and parents, which we hope to distribute next week, and we will also start observing English lessons soon.
A meeting also took place with the disabled people we're hoping to organise into a club. This proved to be very moving, as they talked about their problems and pleaded for help, often in tears. Unfortunately, they have been let down numerous times in the past by people who have promised to establish clubs, but have then disappeared, sometimes with their money. Both Hana and I are therefore determined to do everything we can to help them.
---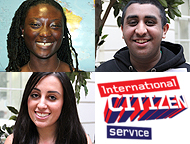 Find out more about International Citizen Service, including when and how to apply.
Listen to some returned volunteers talking about their experiences in the DFID podcast.