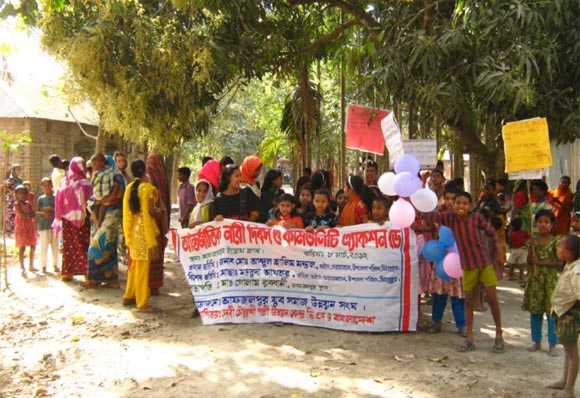 Organising Community Action Days is an important part of our role here in north-west Bangladesh. They are a great opportunity to bring the whole village together and raise awareness about issues affecting the community. Knowing the importance of gender issues in Bangladesh, we decided as a group during our in-country orientation in January that we should take the opportunity to celebrate International Women's Day (IWD).
Since arriving in our village, the need to raise awareness about women's issues has become even more apparent, witnessing firsthand the effects of early marriage and the extent of female illiteracy in particular.
We decided that our first activity for the day would be a rally through the village to give us a strong collective voice and gather participants along our route. Then, given that feedback from the community after our last Community Action Day was to have more music and dancing, we decided that we would hold a cultural programme showcasing some of Afjalpur's wonderful talent. Within this, we also arranged guest speakers from the local council and BRAC school. To end the day's events, we organised a candlelit ceremony at one of the nearby ponds. After all of this planning, hours of rehearsals and persistent advertising throughout the village, we were finally ready to celebrate the day.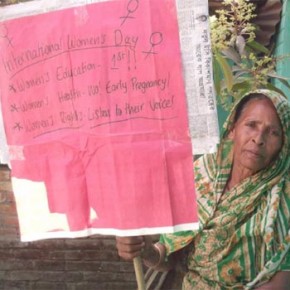 Under the relentless sun of a spring afternoon in Bangladesh (if it's this hot in March, I can't begin to imagine the heat of summer!) we began our rally from the centre of the village, joined by over 100 men, women, boys and girls. Shouting messages and carrying signs about women's health, education and rights, we collected an even larger crowd as we went. Everyone was in very high spirits by the time the rally finished at the location of the cultural programme, ready to be entertained by beautiful Bangla singing, dancing and poetry performed by local people.
The performances were intermitted by speeches raising awareness about women's issues and explaining the huge significance of the 400 people in the crowd coming together on IWD. It was incredibly rewarding to see young and old, male and female at the event, as the issues primarily affecting women have repercussions on everyone.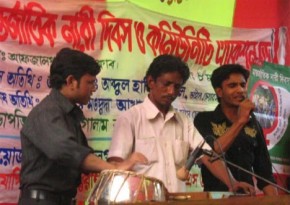 As the cultural programme was coming to a close our final act was a dance by a 16-year-old girl who had been forced into marriage six days before.
Challenging cultural traditions is not an easy or quick process and, as I have mentioned before, such practices are complex and relate to poverty as much as gender inequality. However, being able to raise awareness of these issues, or even just the fact that IWD exists, is a first step and I am grateful to the ICS programme for giving UK and local youth volunteers the freedom and responsibility to arrange Community Action Days according to the issues affecting the local, host community. Giving that newly married young girl a platform to show her strength and belief in women's issues was a poignant moment.
At dusk we held the candlelit ceremony where participants were asked to light a candle as they thought about an inspirational female figure in their life. My mind went back to the girl who had danced on stage moments before, whose life has been dramatically changed without her consent and who is unfortunately representative of millions of young women across the world. For us UK volunteers, the idea of having an early, settled marriage is far removed from our reality, yet here it is a part of everyday life.
The IWD 2012 theme is 'Connecting Girls, Inspiring Futures' and whilst our work here is primarily with a dairy co-operative, we hope that through activities such as Community Action Days we will inspire others.