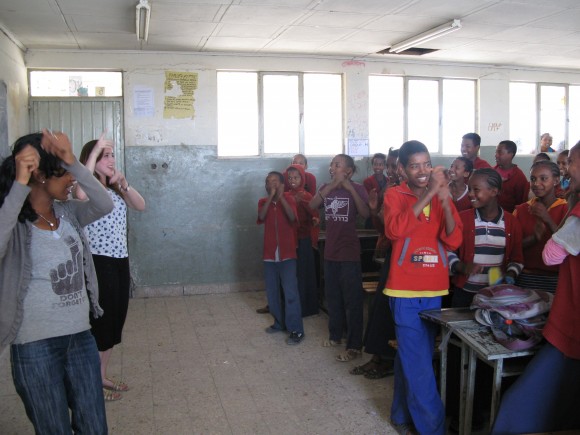 I've been back in the UK for five days, during which I've desperately missed Ethiopia. The last few weeks of my time there were hectic, but incredible: here are some highlights from that period.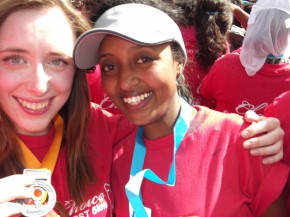 All the female members of the team took part in the Choice Women First 5km run, which was part of Addis' celebrations for International Women's Day.
The event, which promoted female empowerment and had nearly 9,000 participants, was organised by the UN and a number of non-governmental organisations.
It was a fantastic day, with the award ceremony featuring Ethiopia's legendary long-distance runner Haile Gebrselassie, and was a great opportunity to promote gender equality in a country which desperately requires this.
Another highlight was our Community Action Day, which was organised by the entire team. These days aim to engage local communities in activities that respond to a local need. Ours took place at the Juvenile Rehabilitation Centre in Addis, which is the only facility of its kind in Ethiopia.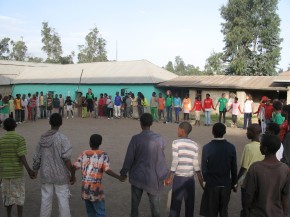 The centre is home to over 100 children, many of whom are orphans and lived on the streets before being sentenced.
They were in desperate need of some love and attention, so we arranged fun activities for them. But more importantly, and sustainably, we painted two of their large dormitories and picked up litter from the grounds. The children themselves helped with these activities: it was moving to see them motivated towards a valuable goal.
Hana's and my most important task during the last few weeks was to finish our work, and to write a handover pack for the next ICS volunteers. Teaching our last classes was very sad, with many students looking confused and upset at our departure. We received very positive evaluations: one student said (translated), "You give us attention, speak to us with sincerity and do a lot of entertaining things for us," while another declared, "I love everything about you guys!". A third revealed, "You have taught us with a technique that we weren't aware of before," referring to the interactive teaching methods we used, which were in stark contrast to the traditional lecturing technique employed by their regular teachers.
It will be interesting to compare these schools to the challenging London school I will soon be teaching at, as part of the Teach First scheme. While discipline is harsher in Ethiopia, with teachers at government schools being allowed to beat misbehaving children, I suspect that Ethiopian students are generally more enthusiastic about their education.
Finishing the research and write-up of our baseline survey was certainly our largest and most stressful task. We outlined, in detail, the results we had gained from our primary and secondary research, and highlighted the weakest areas of the students' English, considering a number of contributory factors. We made comprehensive recommendations on the content and format of the extra classes, based on this research, which we have been assured will be closely referred to during the establishment of these lessons.
Saying goodbye was extremely difficult. As we have bonded so well with our host families and as a team, it was almost like leaving real relatives. There's no doubt that lifelong friendships, as well as sustainable change, have been produced during the programme. This is the message I will communicate to other British young people: the experience is not only hugely enjoyable, but also highly beneficial to the communities involved. After all, what's more important than working to improve the lives of some of the world's poorest individuals?