Babies don't get to choose where, when or how they come into the world. Giving mothers the chance to make those huge decisions could make all the difference in the world.
I learned just how serious birth can be when I became a mother in 2003. Suddenly my ideal birth experience became quite the opposite while delivering my daughter and my midwife called for backup. Luckily for us, there was someone standing by and together they worked as a team to manage the situation and my daughter and I survived.
Weeks later I would learn that the same complication which I endured contributes to the leading cause of maternal death in the world today, and that the lack of access to emergency obstetric care is one of the biggest barriers for pregnant women. A few years later, I gave birth to my second child and, soon after, set out to learn why hundreds of thousands of girls and women continue to die each year when we know how to prevent most pregnancy-related deaths.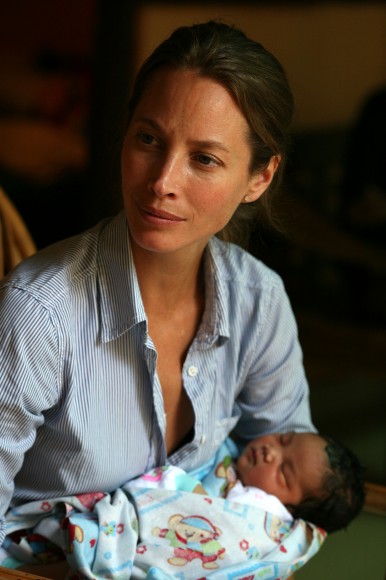 Over the course of two years I travelled around the world to film the documentary, No Woman, No Cry. We turned our lens on four countries - Tanzania, Bangladesh, Guatemala and the United States, where I live and delivered both of my children - to examine the barriers which prevent women accessing maternity care at critical times in their pregnancies. I learned pretty early on that the leading cause of death in the world for girls ages 15-19 is pregnancy. These young women have had virtually no sexual or reproductive health education. Many of them have only completed primary education. Most of them did not become pregnant through consensual sex. Therefore, none of these pregnancies are planned. For far too many of them, pregnancy is a death sentence.
I then founded Every Mother Counts in 2010 to educate the public about the challenges and solutions surrounding maternal health, because I believe that any one preventable death is one too many. Access to information and capable health workers is a human right as is the ability to plan one's family.
That's why I'm delighted that Andrew Mitchell, the UK's International Development Secretary, and Melinda Gates are helping to focus the minds of world leaders on family planning and the rights of millions of girls and women. The London Summit on Family Planning is a big step which could deliver huge change for people who so badly need it.
Family planning not only saves lives; it saves money. In many ways it's as simple as that.
Filming in Africa, Asia and Central America, I've seen and heard the demand. The figures are shocking: more than 200 million women in the very poorest countries don't have the access they want to modern, safe family planning methods. As Save the Children recently pointed out, 50,000 teenagers die each year due to complications in pregnancy and childbirth because their bodies are simply not ready to give birth.
This is about human rights and believing that all women's lives have value.
By 2020, if 120 million more women have access to contraceptives, there will be 100 million fewer unintended pregnancies, 200,000 fewer deaths of women and girls in pregnancy and childbirth, and more than 50 million fewer abortions. The lives of nearly three million babies under the age of one will be saved.
Family planning is also a great investment and the returns are real. Each £1 spent on family planning can save governments nearly £4 on healthcare spending, housing, water and other public services. Girls and women in poor countries who can plan and space their pregnancies are healthier and better educated. Conversely, when girls stay in school longer, they are more likely to delay marriage and first pregnancies and have fewer children that they are better able to care for. Their families and their economies benefit as a result.
In fact, family planning is one of the best economic investments a country can make. And it is one of the most crucial steps towards an even greater goal - reducing world poverty.
That's why I'm proud that Every Mother Counts, and the work it does, is part of a wider worldwide movement; one which is not only giving women the opportunities they deserve, but ultimately creating a fairer world for everyone.
My hope is that the summit and the provision of family planning will go a long way to ending the lottery faced by most girls and women in the developing world. That way, we'll all have luck on our side.
---
Please note, this is a guest blog. Views expressed here do not necessarily represent the views of DFID or have the support of the British Government.

UK aid is changing lives - see the results, share the stories and get involved on Facebook.
See the latest updates from the London Summit on Family Planning.