James is a brave man. Amongst the hubbub of hundreds of mothers and babies gossiping and laughing as they wait to see the family planning nurses, James' is the only male face. Fortunately he seems unfazed by the whole thing, intrigued rather than embarrassed. Like James, I've come to Twifu Hemang, in Ghana's Central Region, to see a DFID funded Marie Stopes International (MSI) Family Planning mobile outreach clinic.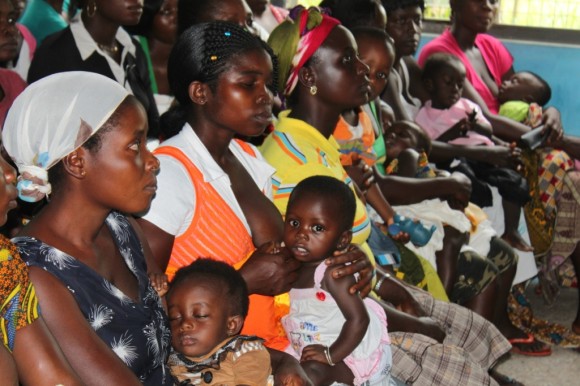 When Sanziana, James's wife, has finished with the nurses, I talk to them together outside. He was here for the first time, he explained, because he had heard about pregnancy planning, and "I came along because I am interested". Sanziana holds her son, Justice, in her arms, and tells me she has three other children at home; she had come to get family planning because, simply, "five children is too many".
Every month, MSI outreach teams of one doctor and three or four nurses come to communities like Twifu Hemang, to offer women a whole range of family planning options that would not be available to them otherwise. Government clinics and hospitals simply don't have the stocks of commodities or the capacity to reach these rural communities, or if they do, the women can't afford to pay for them. The outreach clinic works through government health centre facilities, and junior government nurses and doctors come and help at the clinics to gain experience.
The first thing that struck me when I arrived was just the overwhelming demand  – a trickle of mothers and babies were waiting outside the clinic, but  inside, the rooms were full to bursting in a state of good-natured organised chaos. When the women first arrive at the clinic, they are shepherded into a room for group counselling – one of the Marie Stopes nurses carefully explains what all the different options are, and the benefits and side-effects of each. Mothers listen intently, while babies doze on their breasts. The women then wait for individual counselling with community health nurses. Here the women take pregnancy tests and have their blood pressure and other vital signs checked, and then make the decision on which method they're choosing.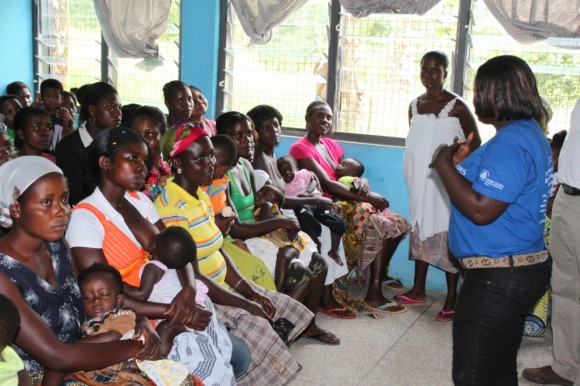 I speak to Janet outside, who already has two children – Prince who is nine months, and Solomon, 4. She became aware of the clinic from announcements on local community radio. "I want my children to grow up happy", she says, and "if the children are too many you can't take care of them." It seems to me that for these women, who've travelled miles and wait several hours to see the nurses, family planning isn't about not having children, it's about having some control over their lives, about having the freedom to be able to make positive choices about their children's future. If the clinic wasn't here, Janet continues, "I might attempt herbal medicine" to try and stop herself having more children.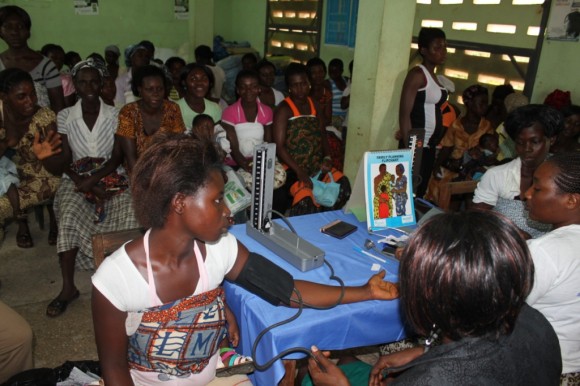 Back inside the clinic, once the women have decided which method they are choosing, they file off to separate rooms to get injectables and pills. In one of the rooms, a heroic pair of MSI nurses administer implants to patients, and don't have time to sit down or eat for the whole day. The outreach co-ordinator Simeon explains to me, "you see how many women are here, they've come from miles away so we can't let them down. We have to make sure they all get helped today."
I talk to Felicia who has come here because she already has two children, and wants to wait until she has another one as "there is no money to take care of the children". Being able to make this decision is such a fundamental right for women in the UK that we take it for granted. In Ghana and around the world, other women should be able to have that choice too.
Today, 11 July, the UK Government and the Bill & Melinda Gates Foundation, with other partners, is hosting the London Summit on Family Planning to provide an additional 120 million women in the world's poorest countries with lifesaving contraceptives, information, and services by 2020. The Summit is calling for international political commitment and resources to transform the lives of millions of women and girls - women like Sanziana, Janet and Felicia, to help lift families, communities, and nations out of poverty.