Recently I travelled to Niger in West Africa with World Vision. It's my first time in Africa and I certainly didn't expect it to be SO hot and barren. Niger is an amazing country and I have met some simply amazing people this week but they need your help, my help, our help. Their country is in food crisis.
Niger is landlocked, bordering Nigeria and Benin to the south, Burkina Faso and Mali to the west, Algeria and Libya to the north and Chad to the east. It is the largest nation in West Africa with 80% of its mass covered by the Sahara desert.
There is political unrest in many of Niger's bordering countries, adding to the problems people face here. In the last few months alone around 10,000 refugees have reportedly entered Niger to escape the Tuareg rebellion in Mali.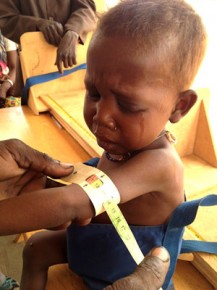 The consequences of a crisis like this will be dire and could result in an extended period of hunger and malnutrition, lack of seeds for next years harvest, mass migration from rural to urban areas, loss of livestock, increased food prices in local markets and the diminished capacity of the people affected to feed themselves.
Even in a good year, acute malnutrition rates in Niger and West Africa are frequently over the internationally accepted emergency threshold. Children who suffer from moderate acute malnutrition are 2.5 times more likely to die, than a well nourished child if they don't receive treatment, and this increases to about nine times if the malnutrition is severe. In some areas 50% of children under-five suffer chronic malnutrition.
Soumalia is suffering from severe acute malnutrition*, he has a problem with one of his eyes, his tummy is seriously distended and he has a very large umbilical hernia. At two years old he weighs just 8.1kg. He has been under nourished since he was born. In the UK the average two year old weighs 13kg.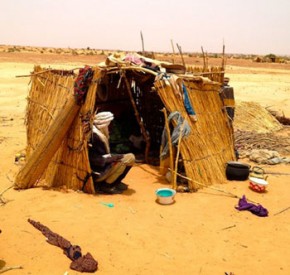 Soumalia lives with his parents and sister in the frontier mining town of Komobangau. Thousands of families have made their way here to find work at the government de-commissioned gold mine and it is quite simply the harshest environment that I have ever witnessed. Home is a very small structure made from stick mats. Half of the roof is missing - it blew off in yesterday's wind.
The family moved to Komobangau from Sourghaybangu which is 400 km away. They own land in Sourghaybangu but the drought has been so bad that all of their crops failed. Soumalia's mother, Fatimata, carries the stress of her situation in her face.
She says, "When I wake up in the morning the first thing I think about is where I am going to get food for that day. If I have no money I'll go and ask friends in the village if I can borrow some for food.
I'm very afraid of the situation here, and I know it is going to get worse. Life here is very tough but if we went back to Sourghaybangu we would die from starvation."
The British government has promised to match every £1 donated to the World Vision appeal with another £1. So if every working person in the UK were to give just 17p, £10 million would be raised to help deliver food and medical care to thousands.
*Definition of acute malnutrition:
A measurement used to determine a child's nutritional status is the mid-upper arm circumference (MUAC) measurement. Because MUAC measurements require a simple, colour-coded measuring band rather than weighing scales and height boards, they are often used during crisis situations. Useful for children between six months and five years of age, a MUAC measurement of less than 12.5 cm indicates that a child is suffering from moderate acute malnutrition.  If the MUAC measurement is under 11.0 cm, however, the under-five child's life may be in danger as he or she is suffering from severe acute malnutrition.
---
Please note, this is a guest blog. Views expressed here do not necessarily represent the views of DFID or have the support of the British Government.
See your donation doubled: Donate to the West Africa food crisis appeal now with World Vision UK and make your donation go further. Donations to World Vision's West Africa Appeal will be matched by the UK Government pound for pound, so we can help more people facing food shortages right across West Africa.
The British Government  is now helping a total of more than 1.6 million people at risk of hunger across Mali, Niger, Chad, Mauritania and Burkina Faso. More than 100,000 children at risk of starvation in these countries will receive immediate lifesaving treatment.
Furthermore, on 12 August, Prime Minister David Cameron will challenge global leaders to step up efforts to improve nutrition and reduce the rate of stunting among the world's poorest children between now and the next Olympics in 2016. The Global Hunger Event will help to strengthen these commitments by identifying pioneering new ways of working to tackle malnutrition and bringing in new champions to support the global movement.