Whilst I was still a young child, Tanzania's founding father and President Julius Nyerere, highlighted the benefits of mass education on accountability to the people:
"An educated Ujamaa Village, for example, will neither allow nor tolerate dishonesty among its accountants or authoritarianism among its leaders. An educated population will challenge the actions of its elected representatives, including its President."
- J, K. Nyerere (1967) Adult Education and Development
The Department for International Development (DFID) has inherited a somewhat unusual assignment - to support the Tanzanian government to purchase and distribute millions of textbooks (and lots of school desks) using funds resulting from a multi-million pound settlement between the UK Serious Fraud Office and a large company that provided an air traffic control system to Tanzania.
Going the last mile
In the spirit of Nyerere's wise words on education, we've been busy supporting a major tender exercise to be sure that the process and audit trail are all above board. However, the task to get a big stock of textbooks to all of Tanzania's 16,000+ mostly rural primary schools is complex. Centralised mass procurement exercises can fall down going the 'last mile' - stocks may be left rotting in warehouses or get diverted onto the black market for example. Crowd sourcing the monitoring of local distribution looks an attractive option with the government committed to widely publicising the book distribution plans.
Great experiments to monitor rural service delivery are being piloted in Tanzania, blending technological data systems with citizen empowerment measures to realise Nyerere's vision of holding the government to account.
For example Population Services International (PSI) Tanzania have innovated with SMS messaging and digital GIS mapping to track condom stocks in local vendor's shops (duku) and availability of anti-malarial drugs in clinics. To incentivise responses free mobile airtime scratch cards or credit is given once the response is received. Positive results of SMS for Life have included major reductions in stock-outs of life saving drugs and the generation of detailed maps of service coverage. However challenges have been encountered with getting the incentives right to sustain accurate, regular reporting and building human capacity to exploit the information generated.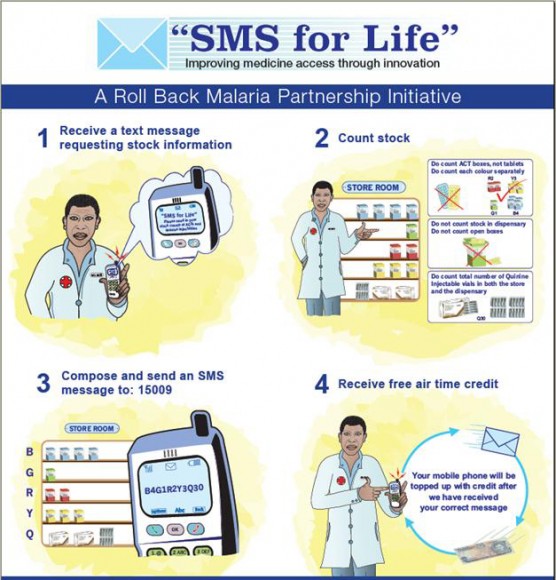 UNICEF also managed an excellent, high impact textbook distribution campaign whilst I was in Zimbabwe using UK aid and other donor support. One idea that was trialled here was to get SMS text messages confirming book delivery back from school heads. A toll free number and guidance was given but the response rate was low. Visits to over 500 schools did confirm the books got out and were being put to good use, but this did take up staff time, vehicles, fuel, etc. We need to understand why this happened and learn from it - is it a question of incentive?
I'd love to see this sort of approach used to support 2013's mass distribution of school textbooks. I'm attracted by some kind of variant of PSI's use of free airtime - ideally with a telecoms sponsor partner - to provide the incentive for a response from a school representative or concerned parent and near real-time digital mapping to assist the government in quickly spotting and dealing with problems. Given the origins of the finance, it would be disastrous if the process was tainted by corruption or abuse.
Any suggestions most welcome please from the blogosphere!
What gives me confidence is that the Tanzanian government, people and business community share our goal for a successful book campaign and the blocks are falling into place. Government data is increasingly open and online. Tanzania's Science and Technology Commission: COSTECH has a dynamic business incubator for technology and application development start-ups. Civil society champions are already engaged in piloting cutting edge apps to promote accountability.
Great programmes or lesson learning will be showcased at the forthcoming Open Up! conference in London on 13 November 2012. This UK aid, Omidyar Network and Wired Magazine collaboration will highlight technology to open up and enable millions of citizens across the world to hold decision makers to account and change lives.
A wide range of schemes will be discussed including:
The Open Up! conference will bring together entrepreneurs, government and civil society to galvanise action in the fast-growing field of open government, to show how web and mobile technologies can drive more engagement of citizens in government and showcase entrepreneurs' innovations and experiences from around the world. You'll be able to join in at www.openup12.org or by following #OpenUp12 on Twitter.