Each day en route to work I pass a perplexing sight - a large single parent family living and learning under a giant fig tree. The hustle and bustle of crowded Dar es Salaam contains a large green space by the coast - like NY's Central Park. Within it resides Agnes and her six children.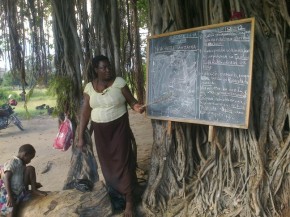 Curiosity finally got the better of me and I stopped by to chat this morning and hand out some sweets for the children. As usual, Agnes was spending the morning home schooling her children; aided by a blackboard and a hand drawn map of Africa.
As I suspected Agnes trained and practiced as a teacher, before running foul of regulations. She's lived for several years under the tree illustrated and clearly has a low regard for bureaucracy and rules that now no longer apply to her. Despite clearly being homeless and a 'family in need', it appeared that her children are relatively well nourished and healthy (I was asked for an anti-malarial bed-net) and that the home (or perhaps homeless) schooling was doing the trick.
Her children spoke English confidently and I suspect were probably getting a better rounded primary education than many in formal schools - if UWEZO's child literacy statistics are to be believed. At least the teacher was showing up regularly - which is not always the case according to one recent local survey.
The lesson to me was I suppose that education comes in all shapes and sizes and formal schooling isn't always the solution. I spent some time this week discussing how funds from Global Partnership for Education might support Tanzanian children and the relative merits of formal and non-formal delivery.
Whether Agnes's approach is a step too far in the non-formal direction must remain to be seen. Something to mull over during the Christmas break..