Do you know what a multilateral organisation is? Do you know your GAVI from your GPE? Your AsDB from your AfDB? Your UNDP from your UNFPA? Last July I was happily informed I had obtained a place on the DFID graduate development scheme and would shortly be upping sticks from beautiful Belfast to glorious Glasgow.  Little did I know at the time that in this new role I would be learning an entirely new language.
It begins with the names of the multilaterals. Multilaterals are organisations that have been established under an international agreement and are jointly funded by multiple countries. Their purpose is to address issues of international concern globally. DFID provides funding to a number of multilateral organisations who undertake a broad range of activities, such as leading the fight against HIV, malaria and TB, responding to natural disasters, providing large scale infrastructure, supporting children and women, and peacekeeping. These multilaterals include well known names such as the World Bank, UNICEF and the World Health Organisation.
Just as there are lots of multilaterals, there are also lots of acronyms. They range from the obvious ones that you can guess from the letters e.g. UNDP = UN Development Programme - to the ones that without a knowledge of another language it is impossible to guess e.g. UNITAID = international drug purchasing facility (it's French).
Once you have got your head around the names of the multilaterals themselves, who they are and what function they perform, you then need to understand the terminology that they use to describe their programmes.  Until a few months ago terms such as VfM (Value for money), M&E (Monitoring and Evaluation) and MOU (Memorandum of Understanding) simply did not exist in my vocabulary, yet now it is difficult for a day to pass without me having not used them.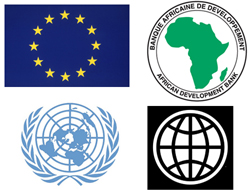 One acronym that my life is now subsumed by is the MAR (Multilateral Aid Review). The MAR was published in March 2011 and is now the benchmark that we measure the effectiveness of multilaterals against.  The MAR assessed the value for money for UK aid of 43 multilateral organisations, with each organisation being assessed against a set of criteria ranging from transparency and accountability to good partnership behaviour. DFID will update the MAR in 2013 to assess the progress being made in those areas which were highlighted as reform priorities in the MAR 2011.
Throughout this one year graduate placement I will be blogging about multilateralism and showing why multilaterals are key partners in delivering UK development objectives. But don't worry, acronyms are optional.
This post is part of the Graduate Scheme blog, in which a group of graduates on this year's DFID training scheme blog regularly on the issues they have encountered in their first year and those they foresee arising over their careers. More from the graduate blog coming soon.