Much of my first three months at DFID were spent on the build up to and organisation of the OpenUp! Conference, an event organised between DFID and the Omidyar Network,  in association with Wired magazine. Coming relatively fresh to development I initially did not quite recognise the weight and scale of the event. Writing the profiles for speakers and glancing at the long list of attendees made me swiftly realise my naivety, and having met development professionals at conferences and the like since, I have come to realise that this really was no everyday affair.
'Open Up!' brought together almost 200 development and tech professionals from around the world to share best practise and discuss how citizens can have a say in the decisions that affect their lives. Mobile and web technology can be powerful tools in enabling governments to become accountable and transparent to their citizens. Technology can provide a cheap way to disseminate information to all citizens and provide them with a tangible way to engage, respond and take actions that can be seen by governments and those in power.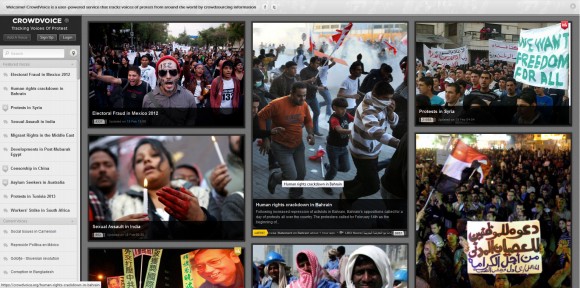 During the 'show and tell' section of the event I found one speaker particularly memorable. Mideast Youth, who are supported by Omidyar Network, presented their open source platform Crowd Voice to draw together a global community of voices of dissent and protest from around the world. I had never before heard of such platforms and they appear to create a safe haven for those who wish to challenge the decisions or actions of their governments. The online platform itself is worth a look, it's interactive, engaging and is self-moderated by other members on the site as well as a small team from Mideast Youth. The platform is open source and is used by various other organisations which have adapted it to their needs – open source technology is revolutionising the way that the web works and is a model which is both transparent and innovative.  Mideast Youth's other incredible projects include Mideast Tunes, a platform for underground musicians in the Middle East and North Africa who use music for social change, and Ahwaa.org, an open space to discuss LGBTQ issues in the Middle East. Having a limited experience of programming and website design myself I was really taken aback by the innovative and interactive way the platform works, something for fellow tech enthusiasts out there. They also have an incredibly cool iPad app, if you're lucky enough to own an iPad! This really did open my eyes to what's out there in the international development world that, although often considered niche, can be used for great things.
Another memorable example for the day was Digital Green. Digital Green provides a YouTube and Facebook style network for farmers around the world to share lessons in agriculture called 'Farmerbook'. The first questions asked by those watching the videos produced by farmers themselves and posted on the database tend to be about the individual – what village they are from and what family. This I found particularly interesting as I myself prefer to learn from real people than from the written word, I found trying to learn to knit from a complex series of pictures, numbers and cryptic text was much more of a hassle than watching a nice elderly lady on YouTube run me through it step-by-step.  Both these examples made me think more about technology as an enabler – it provides a toolkit of devices and methods that can be tailored to individual needs with endless possibilities. Harnessing these opportunities is something that we seem to only just be getting a grip on.
There are more specific examples where technology can be used as a practical tool to delivering aid objectives. Elections are a clear place for technology to triumph in enabling transparency. During the Nigerian elections, UK aid funded a programme that used SMS messaging to enable Nigerians to hold their government to account for a free and fair election. Observers were deployed to polling stations, reporting the voting results for each station via SMS messaging and comparing the vote tabulation with the officially announced results. Radar used a similar technique to report violence and challenges at polling stations across Sierra Leone in the November 2012 elections which they combined with a programme to train young journalists in mobile reporting in conjunction with Leonard Cheshire Disability. Radar is a great example of how technology can promote accountability mechanisms at the same time as helping achieve other development aims/goals, something that I've been discovering more of as I look into innovative ideas in more detail.
Clearly there has been great support for the ideas and messages coming from the Open Up! conference. The man behind the internet itself and founder of the World Wide Web Foundation , Tim Berners-Lee, fully endorsed the Open Up! euphoria in his blog post. DFID's own Justine Greening announced the launch of the Making All Voices Count challenge fund at the event which will provide $45 million to support innovation, scaling-up, and research that will deepen existing innovations and help harness new technologies to enable citizen engagement and government responsiveness – clearly stating DFIDs commitment to using technology to give voice.
Stephen Fry, Tim O Reilly, Rakesh Rajani and Ethan Zuckerman, tweeted throughout the day alongside a string of other big names. In total almost 5 million twitter accounts were reached with the #OpenUp12 hash tag which trended on Twitter in London, Nairobi, Lagos, Paris, Berlin, California, Boston and Washington during the day.
All in all I have concluded that for my first three months with DFID this has been a pretty fantastic experience. Despite not being able to tell my friends that I have met the man who invented the web I can still say that he, Stephen Fry and others talked about an event I took part in organising. Throwing in that I met the Queen of Jordan at the High Level Panel Meeting on the post-MDGs helps too, even if they still have no idea what post-MDGs are nor what international development really is. I will keep my fingers crossed for the invitation from Sir Tim.
Clearly these issues are at the forefront of development thinking both within the area of governance and as a cross-cutting theme and are a main priority for DFID. What's important is that DFID is taking these issues seriously, having announced the Making All Voices Count fund and supporting many programmes such as Laptop Ladies (which I will discuss next time) as well as exploring opportunities for using technology in the humanitarian field.  There are too many examples to share here but I hope to shed some light next time on how my investigations into the use of technology for empowering and providing services for women have been even more rewarding and exciting.