The 12th February was a busy day. In addition to a meeting with a delegation of Ugandans (see here), who were in the UK to launch an Alliance with Health Institutions, I spoke at a meeting on Neglected Tropical Diseases, held at the Wellcome Trust.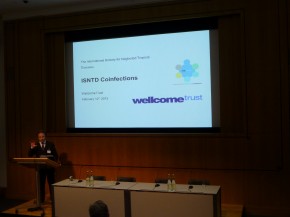 The meeting was organised by the International Society for Neglected Tropical Diseases, and focused on  co-infections between neglected tropical diseases and other diseases.The Neglected Tropical Disease link above gives a list of this group of diseases, which includes things like worm infections, river blindness, and guinea worm. Many of these diseases, which are most common in tropical climates co-exist in areas where diseases such as HIV/AIDS, TB and Malaria are also major problems (there is a link to a European Commission site on the three diseases here). It has been suggested that we need to develop rapid intervention packages to treat neglected diseases as part of the response to HIV/AIDS, TB and Malaria (here). A highlight of the meeting was a video address from the Minister of Health of Rwanda, Dr Agnes Binagwaho.
An effective response to any disease requires political ownership and leadership, and it was really good to see Dr Binagwaho's presentation and then hear from Emil Ivan, on malaria and helminthic (worm) co-infection in HIV positive pregnant women. In Rwanda, there is clearly a recognition of the need for integrated services to tackle the full range of health problems, using targeted funds in ways which strengthen the overall capacity of health services.
My interventions at the meeting highlighted this important issue of strengthening the health system as part of any targeted disease response. I highlighted in my blog on the Global Fund New Funding modality (here), that resources mobilised to fight the three diseases also need to invest in human resources and the key building blocks of good health services. The same is true for interventions which aim to tackle any of the neglected tropical diseases, the final push to eradicate guinea worm will be far more cost effective if it also addresses issues of water and sanitation and strengthens the capacity of health workers more generally. Unless we build health services which can meet the most pressing health needs of the whole population, the interventions being delivered will not be sustained over the long term, which is essential if we want to improve health.