I was privileged to participate in a fascinating debate on the future of learning, in the somewhat surreal futuristic setting of downtown Dubai, under the lofty spire of the Burj Khalifa - the tallest (currently) manmade structure on the planet. I spend most of my days in more modest African settings discussing the fundamentals of very basic school systems, so the Arab Emirates was a real eye opener.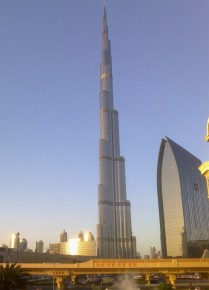 DubaiCares is major emerging development funder, with an already impressive array of primary education programmes across 25 developing countries. They were generously hosting a global task force meeting on Learning Metrics; what all children should learn and how it can be measured globally. The education Millennium Development Goals set in 2000 have helped to get many more poor children into schools and decrease gender gaps. However the rapid expansion of school systems in many low income countries has resulted in appallingly low levels of learning. I recently posted on exam and UWEZO test data in Tanzania, the inconvenient truth is that many children are leaving school unable to read and hence learn, evolve and prosper. Last week Tanzanian secondary Form IV (O level) results also shocked the region with low and falling pass rates, in contrast to the rapid recent growth in enrolment.Current international tests such as PISA and TIMSS help to benchmark, diagnose and compare the learning of teenagers, but very few developing nations participate as most of their children would drop off the scale. At the task force meeting more fundamental levels of learning - such as being able to read with comprehension and perform arithmetic were proposed, together with possible new composite measures of 21st century learning in technology and citizenship for all young people. Gauging basic learning might sound simple, but to compare across diverse national systems and languages is not straightforward. Take a glimpse at the erudite reports emerging from the Brookings Center for Universal Education if you're not convinced!
Even more difficult will be to convince the political leaders in 2015 to agree to global measures that commit nations to reform and improve their school systems and be graded by the demonstrable skills of their children, not just the volume that can be crammed into bare classrooms. Some countries rightly feel apprehensive about such comparisons, just as children get sick with nerves prior to examinations.
High level political meetings are already being convened on the post MDG agenda, with the UK, Liberia and Indonesia currently co-chairing. The learning metrics group aim to provide technically and politically feasible solutions; if and how they will be taken up remains to be seen.
Before flying out I rose before dawn to be At The Top - the 124th floor viewing platform of the 828m high Burj Khalifa. An eerily silent futuristic lift whizzed me up vertically over half a kilometre in just one minute. I watched the sun rise over the desert, gleaming spires and artificial world island map that have made Dubai famous. However the morning paper announced a new pretender - the 1.2km Kingdom Tower in Jeddah, which may eclipse the mighty Burj Khalifa by 2018.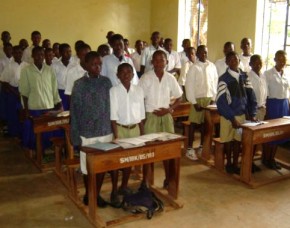 A more important competition is to raise the excellence and innovation of our children's learning, so all may reach their full potential. In the champions league table of learning we see the likes of Finland, S. Korea, Hong Kong and Shanghai competing to develop the best global talent, with the direction of travel, like the global economy, drifting east - as Sir Michael Barber has reminded us.
Meaningful learning for all children matters especially in the developing world, to provide a strong foundation for poverty alleviation. Global learning metrics and targets can potentially provide a powerful tool to reduce the huge and growing gap in achievement that currently exists. I hope our political leaders can put learning at the heart of the post 2015 agenda: Education First! - as proudly proclaimed by the  UN Secretary General Ban Ki Moon.