In 2013 we are asking everyone to Go Further For Fairtrade. This is the message during Fairtrade Fortnight (25 Feb – 10 March). In particular we will be focusing on food and the crucial role of smallholders, so that together, we really can make 2013 a game-changing year in food.
Smallholders grow 70% of the world's food. They are critical to the production of many of the tropical agricultural commodities we take for granted - 80% of our coffee is grown by smallholders and 90% of the world's cocoa. But many farmers are trapped in a cycle of poverty, made worse by decades of price volatility and underinvestment in agriculture, and now facing new threats from a changing climate. This phenomenon is threatening the very sustainability of many of the products we enjoy on a daily basis. Our global food system is unbalanced. It doesn't work well enough for consumers - horsegate has shown that. And it is wasteful - consumers in rich countries waste as much food as the entire net food production of sub-Saharan Africa. Recent World Health Organisation research reveals that, for the first time ever, the number of years of healthy living lost globally as a result of over-eating outweighs the number lost by people eating too little.
We know there is enough food for everyone, but everyone is not getting enough food. 2013 is the year that we need to find better solutions. The UK is hosting the G8 Summit for the first time since 2005 and the week before the G8 the UK government will host a summit on food and nutrition. This is an unprecedented opportunity for leadership to tackle the challenges to the future of our food system; challenges that will need changes from all of us - farmers, the public, and companies as well as governments.
Fairtrade has made real gains in the last few years, bringing lasting benefits to more than 1.25 million producers in over 60 developing countries. This has been supported by DFID through a Programme Partnership Agreement of £12 million over four years. The grant was given to Fairtrade globally to help scale up our work supporting farmers in developing countries to access better terms of trade in global markets. And over the life of this grant Fairtrade has continued to buck the trend by growing well even in the teeth of recession. In the UK, Fairtrade sales grew 19% in 2012, to £1.56bn. Britain now leads the world in Fairtrade.
This support has enabled Fairtrade to reach more people, but it has also helped us bring the benefits of trade to more fragile communities and to begin to target our interventions more. Through this Fairtrade now works with olive farmers in Palestine, raisin farmers in Afghanistan and coffee smallholders in the Democratic Republic of the Congo. We are also able to support women's groups, like the dynamic entrepreneurs of the Akoma Women's Co-operative in Ghana, who have begun marketing Fairtrade shea butter.
That is a great start, but it is not enough. We need to step up the pace. We need to reach more farmers and workers in ways that matter to them and that are relevant in today's volatile climate. We need to identify the circumstances under which Fairtrade can be truly dynamic, which producers can use as a springboard to a stronger future.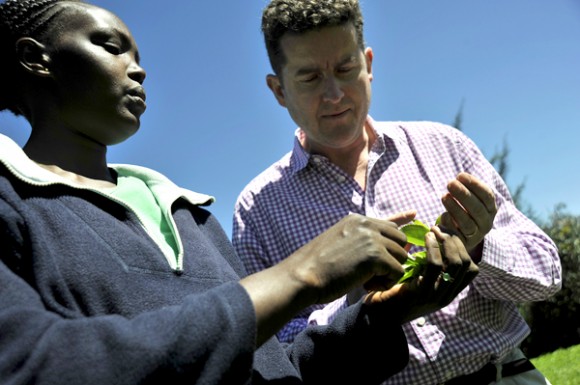 Last month I visited two projects in Kenya which are helping producers do just that. In the tea growing region of Kericho, in Western Kenya, Finlays Beverages and the Co-operative Group – with support from DFID – have been working with the Fintea Growers Co-operative Union, which has a membership of around 15,000 smallholder tea farmers, to develop its business. Fintea Growers gained Fairtrade certification in 2011 and this Fairtrade Fortnight they are supplying 50% of the tea The Co-operative's new 99 Tea Gold. Similarly, in the foothills of Mount Kenya, the 8,000 smallholders of the Iri-Aini Co-operative used the confidence that Fairtrade has given them to develop their own packing facility, working in partnership with Marks and Spencer, with support from DFID's FRICH fund. This enabled the smallholders to capture 60% more value at source and has spurred them on to start selling their tea locally as part of an exciting new move to launch Fairtrade to the domestic market in Kenya.
Smallholder farmers are not a 'problem', neither are they passive 'beneficiaries'. Indeed, FAO figures show that smallholders themselves already invest US$170 billion a year into their own farms, four times more than investment from all other funding sources put together. With the right support they will build better businesses and make lasting change happen in their communities. And of course we need to ensure the voice of smallholders is heard as we look for lasting solutions to our unbalanced food system. As Beatrice Makwenda from the National Association of Small Farmers in Malawi (NASFAM) once told us, "the person wearing the shoe knows best where it pinches".
---
Please note, this is a guest blog. Views expressed here do not necessarily represent the views of DFID or have the support of the British Government.