We're starting a new group blog, Digital for Development, to introduce you to colleagues around DFID who will share how using digital communications and technology can help us achieve better results and value for money in our programmes.
You will hear from colleagues working on a new platform to update, improve and replace the existing projects database. We are improving the way to find out where aid funds are spent and giving people the facility to trace those funds through to the people who benefit from it on the ground. You will hear examples from the team behind @dfid_uk on twitter, DFID on Facebook and other social media channels about how they look continually for different ways to interact with new audiences.
We will share news from colleagues working on ways to transform how we interact with the people and organisations who have contact with us - whether they are applying for a grant, reporting back on programmes they run on our behalf, or finding out how people are benefitting from our work. And last, but definitely not least, from the team who are leading the way in exploring new ways that technology can support development.
All these areas of work came together under the departmental digital strategy published last year following publication of the overarching government digital strategy.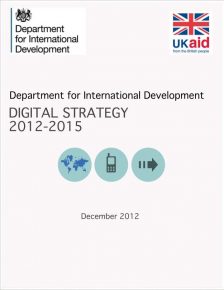 My new role is to have oversight of the many threads and priorities which the strategy covers, and report on progress – which will involve showcasing achievements as well as updates on work which is still to be done. I am looking forward to this work, as it builds on the many different projects I have been involved with as DFID's digital capacity has developed – from the early days of creating our first ever website in 1995, launching the first intranet in 2000, through the excitement of experimenting with emerging social media channels (which included the creation of this blog platform), to seeing our presence in places like twitter, facebook and others grow.
The strategy identified the priorities for DFID to 2015 and outlined how we plan to improve digital capabilities across the organisation. There will be more from me on that over the next couple of months as we work out current levels of activity and awareness, what people's needs are and how to meet them. I look forward to working with colleagues from other government departments to share ideas and approaches.
There are some pockets of activity and enthusiasm across the organisation already. We have individuals making excellent use of social media to have conversations with specialists in their field, and we have teams working behind the scenes finding efficient ways to share evidence and improve decision making. One of my biggest challenges is to find these examples, so we can showcase how staff are using digital in their work and encourage others to try things out.