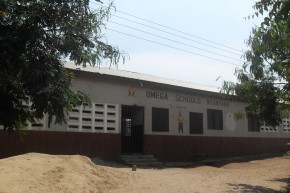 Despite the rise in school attendance in Ghana, around 440,000 kids are still out-of-school (61 million globally). The United Nations estimates it would cost $16 billion a year to get these out-of-school kids into class by 2015 to reach the Millennium Development Goal 2. Here in Ghana, while the government is expanding access, some parents are opting to pay for their children's education. In fact, it is estimated that private schools make up a third of total schools. DFID Ghana is looking to understand more about the private sector, and we are financing the World Bank (Harry Patrinos) to carry out "Education Markets" analysis of low fee private schools.Whatever one's ideological stance is on the role of private schools (read the BBC article which sees Sir Michael Barber go head to head with Professor Keith Lewin debating this very issue), we can't ignore the fact that poor families are opting out of the government system. I went to visit Ghana's Omega Schools, a chain of low fee private schools which last year received financing from Pearson's Affordable Learning Fund. Pearson's Affordable Learning Fund is chaired by Sir Michael Barber who was once head of Tony Blair's Service Delivery Unit.
I just met with Sir Michael on a recent trip he made to Ghana checking up on his investment. He seemed pleased with the progress that the Omega Schools are making and would like to explore vouchers – where parents are given vouchers to spend on education. He is actually working with DFID Pakistan in Punjab on a programme that provides vouchers for poor families whose children attend private schools, providing free education to 1.1 million children in 2,233 schools.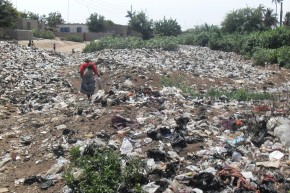 The Omega Schools are located in Kasoa, on the outskirts of Accra – a lively and hectic place, home to migrants from Ghana's poorest regions, working-class Ghanaians and anyone trying to eek out a living in Ghana's capital. Kayayei girls sell goods on their heads, from plantain chips to lobsters line up at car windows, while bus drivers gather up passengers to brave the traffic into the centre and young boys hustling their car-washing skills at the traffic lights.
I met with Omega's CEO, Ken Donkoh in their Kasoa HQ who told me about their plans, and took me around 3 of the low fee private schools.
"Our plan is to scale-up to more than 200 schools in the next 5 years. Currently we have 20 schools in Ghana with 12,000 students and we are adding 20 new schools to the chain this September. We will then add about 35 more schools every year. We want to take the model to other countries in West Africa, and we are now in Sierra Leone and will be looking for opportunities in Nigeria and Liberia."
According to observers, Omega has been successful because of the all-inclusive (no hidden fee) daily fee model as it fits well within the earning pattern of the parents who are mostly informal workers, and don't always get a regular salary. Just as "pay-as-you-go" was an instant success for the mobile phone sector, it seems to work for Omega Schools.
Ken calls it "pay-as-you-learn" and emphasizes that:
"It drives us to be the best we can be. We have to be accountable to the parents on a daily basis. If we don't do a good job today, don't expect the children to come the next day. I love the discipline this brings to everybody –teachers and the management on their toes."
Another novel component of the Omega package seems to be the consistent tracking of how well students are doing. Ken explains:
"We track the progress of each student using 7 different tests annually. There are mid-term formative assessments per year which ensures that we are able establish how well the children are receiving our curriculum – then we do remedial teacher training and teaching to fill in the gaps. Three end-of term tests track 'progress' and an annual test compares Omega schools with, government and other private schools."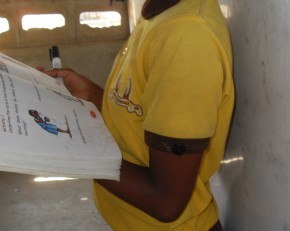 I became curious to know more about the button sewn onto students' shirts. Ken explains that this button acts as a tracking device and once swiped can provide access to the students' academic records. A teacher confirms that they use the data on the button to text a student's parents how well his/her child is doing in each class.
Although the Omega's approach does look promising, the evidence base on low fee private schools is still weak, and there are more questions than answers. Professor Keith Lewin does make a valid point that where there has been growth in low-price private school numbers, it is often because of specific circumstances, such as where a high level of migration into cities has not been matched by an expansion in public services, and it is still impossible to tell whether low fee private schools or public schools are better, because the research produces contradictory results.
This is exactly why DFID is supporting the World Bank's "Education Markets" study to develop a better understanding of the policy and operating environment in which the private education sector currently work, and obtain more data on the role of private schools for the poor.
Ken is proud of the unique model of Omega schools.
"The lesson plans are already developed – and the lessons are also scripted which allows Omega to hire high school graduates as teachers. These high school graduates are young, passionate and energetic – and they want to make a difference." Critics have pointed out that the fees are so low because they are deliberately exploiting secondary school leavers without jobs who are willing to work below the minimum wage.
So how did Ken become involved in the Omega Schools?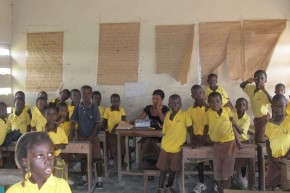 "Maybe I was just lucky, because out of a class of 80 students in junior high school (morning and afternoon shifts) only 5 of us made it to senior high school. While I was studying for my MBA at GIMPA , I encountered James Tooley's research since I was searching for solutions to help my elder sister who was running a low fee private school. I came to the conclusion that (given the chicken-and-egg dilemma that private schools face) the most effective way to improve quality and drive down fees was to build a chain. I sent James Tooley my business plan – with a provocative note, "if you really believe in your research, can we turn this into a business?" After a number of failed attempts to secure financial backing, we finally said enough is enough, let's start on our own". In 2009 we opened our first 2 schools filled to capacity on the first week of opening. One of the schools had as many as 350 students on a waiting list. In 2 years we grew to 10 schools, broke even and caught the attention of Pearson who invested in us."
DFID is continuing to research the role of private schools. Our senior education advisor in India, Colin Bangay and Michael Latham have been researching private schools in India and looked in-depth at 'Gyan Shala', an innovative low cost education programme operating in the slums of Gujarat and Bihar. They argue for a better understanding of the dynamic between the public and private schools. Further, DFID is supporting Results for Development Institute (R4D) to launch the Center for Education Innovations which will be an online platform identifying, analysing, and connecting non-state education innovations.
I would be interested to hear what you think on the role of private schools and whether DFID should be investing in them. Do let me know what you think and add your comments here!