The Head of DFID Sudan, Ben Mellor, has just started tweeting, you can follow him @bjmellor. This has prompted a debate in the office about whether we can explain what DFID Sudan does in a tweet.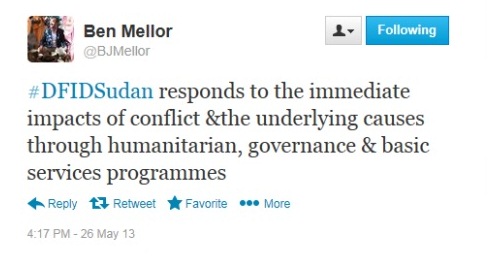 I think Ben's tweet above is an accurate summary of what we do in DFID Sudan, but to fully understand our work you need a bit more detail, this blog is hopefully going to give a bit more context on the work we are supporting in Sudan.
Something that we are constantly reminded of here in Khartoum is that the relationship between the UK and Sudan goes back a long way. This relationship has changed over the years, and with it, as has our presence and approach.
Sadly, a defining feature of the centuries old relationship is that since independence, Sudan has rarely been at peace. There have been, however, huge steps to resolve this. The years of peace have mostly been since the Comprehensive Peace Agreement and secession of South Sudan in 2005. There are on-going talks between Sudan and South Sudan to resolve the outstanding issues, and there has been huge progress over the last decade. The on-going peace talks are a great example of this is a great example of  the 3 D's (development, defence and diplomacy) as DFID, The Foreign and Commonwealth Office, Ministry of Defence have all played a role in this.
There continues to be serious conflict within Sudan. The conflict in the East has been resolved with a peace deal in 2006, but despite efforts for peace, there is on-going fighting in Darfur and the states of South Kordafan and Blue Nile. All of these conflicts are at different stages and all have a significant impact on human lives.
Some of DFID's work in Sudan is to respond to the immediate impacts of conflict on people's lives. This can mean many things such as providing emergency food and water, shelter and health services. Last year I visited Zam Zam camp in North Darfur, this was the first time I'd been to a camp for Internal Displaced People (IDP's). The camp is about half an hour outside of El Fasher and even on the day itself we weren't sure whether the situation would be stable enough for us to visit. Once we'd made it through several checkpoints we turned off the main road and into the camp. Even though I knew that there were about 100,000 people in the camp it was another thing to drive through the camp and see the large numbers of people there and see their shelter which for a small number of houses was plastic sheeting but for others it was made of local sticks or mud bricks. This all combined to give it a feel of a more permanent place.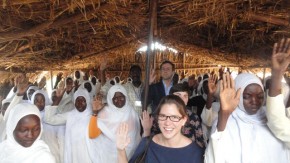 We had gone to visit Plan and the work that they were doing to support those who had been in the camp for several years and those who were newly displaced. We visited a school which was identified by a fence of sticks and some makeshift classrooms. The children we spoke to were all pleased to be in school but were unsure as to what their futures would be. We then moved on to a distribution centre and talked to the women who were waiting for their emergency packs from Plan. These packs had plastic sheeting to create shelter, pots and pans for them to cook food and a jerry can to collect water. It seemed like a small amount of belongings to collect to start a new life in the camp having fled conflict in their villages.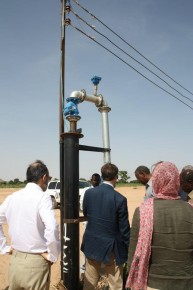 The humanitarian work that we do is essential in saving people's lives. Having seen the enormity of the camps, and talked to people who have lived there for over five years, we also need to think about how to support people to move from humanitarian assistance to supporting themselves. This is why DFID's programmes in Sudan do not only respond to the impacts of conflict but also try to address the underlying drivers of conflict. Conflict is often about the lack of availability of resources and access to basic services. We have two programmes that focus on water management. The Sudan Integrated Environment Programme run by UNEP and the Darfur Urban Water Programme run by UNOPS, these programmes look to provide sustainable access to water to communities.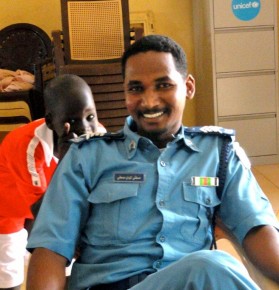 Law and order is also an important factor in preventing conflict as well as providing justice after conflict. We have two programmes that focus on improving governance in Sudan. The Sudan Safety and Access to Justice Programme which is designed to  help improve Sudanese citizens' personal security, human rights protection and access to justice. It helps provide training and support to the Sudanese National Police and the Sudan National Judiciary in Khartoum State, Red Sea State and South Darfur State. This is helping them to set up community policing to improve the relationships between the police and members of the community. I visited the work that they are doing in South Darfur with DFID Minister Lynne Featherstone in January. We also have a governance programme with UNDP, I visited one of their paralegal centres in El Genina, last year. The paralegals told us how they are supporting their community to take cases through the courts as well as running education programmes for the local community.
Whilst we have high ambitions for what our programme can deliver, however we cannot deliver it alone. We work with a range of national and international partners in Sudan. These include United Nations organisations, private sector providers, International and National NGOs. Without a joint international effort Sudan is not going to be able to break out of the cycle of conflict. To further this I was in Doha last week meeting with the Government of Qatar and some Qatari charities to talk about possible UK-Qatar cooperation, more on this in a future blog.
So what do you think, has this blog at characters explained what we do in DFID Sudan or did you prefer the short punchy tweet of 140 characters?  I'm sure we'll keep debating the benefits of twitter vs. blogging but please follow @bjmellor for #DFIDSudandailyfact as well as short more regular updates on DFID's work in Sudan.