I have to travel a lot for my work, and over time I have refined my packing to be as compact as possible.  I'm particularly proud of a small see-through plastic zip-up toiletries bag, which is a triumph of space saving. My toothbrush, perfume and other bits and pieces fit into it perfectly, it's long-lasting, and it meets all the security requirements. Flying in a post 9/11 age I understand the risks and importance of security.
What is interesting, however, is how different security personnel react to my little bag. Half the time they look at the bag, see the toiletries through its transparent panels and wave me through. But other times I get to the airport and am told to empty my toiletries into a considerably more flimsy plastic bag provided by the airport. I always find this irritating as the airport bags are a) not big enough; b) nowhere near as neat as my bag; and c) take more time to empty and refill.  It feels as if the second type of security personnel are just following orders – failing to see that I have come up with a more elegant, dare I say, better solution.
Working in development, I often wonder whether my colleagues and I are like the second type of security personnel – insisting that everyone uses one solution regardless of circumstances, or whether we're actually more like the first type – recognising the best solutions a person or a country comes up with to a specific problem.  It can be a particular issue when looking at how actors that provide aid should do so most effectively.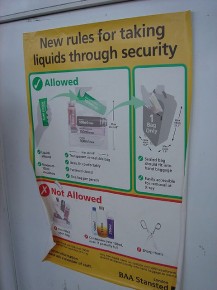 I wondered about this during a recent trip to Abuja, from where DFID Nigeria runs around 40 projects.  The value of new projects to be launched this year alone is £716 million, so it's an important office within DFID.
During my visit I attended a meeting with officials from Nigeria's National Planning Commission (NPC). In most of the countries that DFID works in, ministries of National Planning tend to have a major role in receiving and allocating aid from other countries, and monitoring the results of the aid.  Ministries of Finance, including in Nigeria, usually receive and allocate loans – for example from the World Bank. However, in Nigeria, the ministry of planning can't play such an involved role in aid because of major corruption risks. Thus, no bilateral donors in Nigeria currently give grants to the government directly (NB: in development speak, this means that they do not use "country systems" or "budget support").
Added to this, compared to other countries, aid from all donors is a small proportion of overall financial flows in Nigeria – it adds up to less than 2% of Nigeria's national income. This means there is a feeling that the time taken to coordinate donors will not reap as many benefits as it might in other countries that are more aid dependent. Hence, while in Abuja, I witnessed a meeting between a number of donors sharing information about a fantastic, transformational project DFID is supporting to help Nigeria's state governors to share and peer review each other's policies – for example policies to collect more taxes, be more transparent, to deliver more education and health, and so on.  While donors in Nigeria do come together to discuss their overall portfolios, they focus just as much, if not more, on the substantive results of the work.
. Similarly, I sat in a meeting of all the UN agencies working in Nigeria, where the discussion focused more on how to avoid duplication than "coordination" per se.
As I observed these meetings, I wondered whether DFID Nigeria was being effective enough.  The general belief in development, based on international agreements made in Paris (2005) and Accra (2008), has been that channelling finance through domestic ministries and coordination are both critical elements of "effectiveness".  Was Nigeria, by not following the rules, being less effective?
The answer is no. DFID Nigeria is being as effective as possible within the circumstances it is operating, by prioritising a principle of "country ownership". Although the NPC can't actually receive aid, DFID Nigeria still prioritises meeting with the NPC to listen to the Government's priorities and make sure DFID's projects are aligned with them as much as possible. The support DFID Nigeria is giving to local state governance also helps ensure country ownership – driving accountability and open policy making.  In another country, coordinating or using other solutions – such as budget support or "joint programming"  – may be the best and primary means of ensuring country ownership.
This is why it's so useful that the Busan Agreement on Effective Development Cooperation, made in November 2011, while still monitoring some specific tools for country ownership, has gone beyond the Paris and Accra agreements to recognise the importance of tailored solutions.  The Busan agreement suggests that all Governments – whether providers or recipients of aid – should focus more on achieving the principles of effective working.  Every country receiving aid does want real ownership, but the tools to achieve it may well need to be tailored to different circumstances.
There is certainly simplicity in trying to make every country do the same thing, just as I am sure there is a nice order when I am flying to making everyone put their toiletries in the same plastic bag. But if imposing a one-size-fits-all-approach can be frustrating when flying, it's a great deal more frustrating when working out how to best deliver aid.  Aid to Nigeria is achieving real results, but only because it is working to Nigeria's specific needs and circumstances.