We now know that undernutrition is the cause of nearly half of all child deaths – and we know what we can do about it.
Last week there was a series of high level nutrition events in London. I'm part of the Nutrition for Growth team delivering them. It began on Wednesday with the launch of the new Lancet medical journal series on nutrition at Imperial College, right in the heart of St Mary Hospital. I really wanted to hear the top line results. It made for sobering news.
Undernutrition is now deemed to be the cause of 45% of child deaths globally: 3.1 million children die of malnutrition every year, that's over 8000 every day and 5 children every minute. There are still 165 million stunted children in the world. That's children who have not reached the height they should, and whose physical and mental capacities will be forever impacted by their lack of the right nutrients at the right time.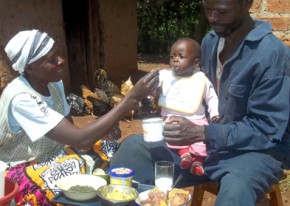 We also heard that the specific interventions for improving nutrition such as vitamin A capsules, treatment of diarrhea, and management of severe malnutrition can only reduce stunting by one fifth. We need to move beyond the usual way of doing business and tackle the underlying causes - making sure cash transfer programmes, sanitation provision and even girls education deliver for nutrition.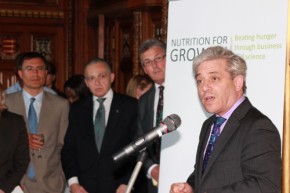 Thursday evening saw an event for Parliamentarians, held at the Speaker's House with fantastic views of the Thames to welcome our guests.Then on Friday 'Nutrition for Growth' was launched co-hosts DFID, the government of Brazil and The Children's Investment Fund Foundation with a reception at the Royal Society.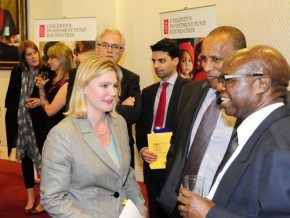 Justine Greening, the Secretary of State, laid out DFID's ambitions for our 'Nutrition for Growth'. She said, "everybody wherever they are born should reach their full potential" and we need a new approach that moves way beyond aid to tackle the challenge. She highlighted that backing good country plans and enhanced domestic resources will deliver for nutrition, which has been the most neglected topic in international development.
Countries such as Brazil have eradicated undernutrition, so it is possible. We hope working together as co-hosts will galvanize governments, business and science to work together to eradicate undernutrition altogether.
Minister Andreucci Neto, from the Office of the Vice President, spoke passionately about how Brazil has lifted 22 million people out of poverty since 2011 and worked to give all its citizens an able chance. They want to share their knowledge with countries now needing the knowledge to do the same.
The Brazil success story is certainly striking, and the Lancet series showed us that: Brazil came top of a ranking of countries showing equity in stunting rates – the very richest and very poorest have almost equally low rates. Thi is testimony to their history of targeting poorer people with safety net programmes. Using only national figures can hide how much more likely you are to have your potential thwarted by malnutrition, if you are poorer.
Momentum was growing all week towards the main event on Saturday at which donors, heads of state, business and science came together to make commitments that could reduce stunting in 20 million children.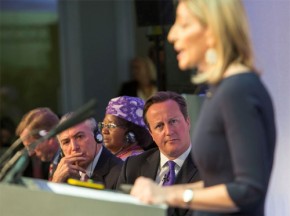 The event at Unilever House saw representatives of 52 countries come to hear how countries, businesses and civil society organisations will commit to reduce undernutrition globally – 24 governments and 28 business, civil society and science organisations endorsed the Nutrition for Growth compact, which committed them to taking real, measurable action. Many of them also made their own financial and policy commitments, including increasing national budget allocation for nutrition, diversifying the crops the produce or ensuring they have a healthy workforce.
It was an exciting day, and you can see the films of the sessions here.
Alongside the Heads of State, Bill Gates, Kofi Annan and Beninese singer Angelique Kidjo, one of the undoubted stars of the day was a humble root vegetable – the orange sweet potato. It is not a traditional staple in Africa but is increasingly being planted. Just half a cup a day can prevent blindness and even death in young children, as it contains vital Vitamin A micronutrients. Donors including the UK announced new commitments to invest in the crop. There was even a tasty orange sweet potato salad on offer for delegates to try.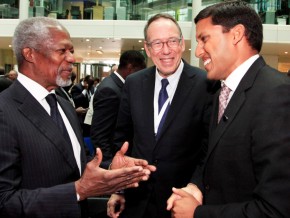 Nutrition has suffered from not getting the attention it deserves because it is hard to bring these very disparate communities together. Health workers speak a different language from agricultural professionals, business people speak a very different language from civil society organizations. It is a complicated message around the need to work in different sectors to ensure children get the right nutrients, at the right time, without them being wasted. I was struck throughout the day about how the landscape for nutrition has now changed, but also how great it was to hear the speakers not simplify the challenge of under nutrition to one of hunger.There are times in life when you get the opportunity to make an 'elevator pitch' to someone – I got that chance, in a very real sense, when I found myself in a lift with Bill Gates. Luckily there was no need as he is already fully signed up to the importance of tackling undernutrition – as his commitment to invest over $850 million by 2020 shows.
Donors like Gates, Prime Ministers, Ministers of Agriculture and Health, businesses and NGOs across the political spectrum talked with real passion about women's rights, sanitation, livelihoods and other previously unpopular topics. That felt like a real step change.