'No nation can rise to the height of glory unless your women are side by side with you', said Muhammad Ali Jinnah, founder of Pakistan. Unfortunately for the majority of Pakistani women, the notion of equality remains a dream, even now. But how can we ensure women play a part in decision making? And how can we break down the barriers that prevent women from becoming leaders? These are the questions that brought together Oxfam Great Britain and its partner The Aurat Foundation (AF) for the DFID funded Raising Her Voice (RHV) programme in Pakistan. DFID supports Oxfam's RHV programme in 17 countries through its Governance and Transparency Fund.
Over the past 5 years, the RHV programme supported 1,500 women activists, living and working in their communities, in organizing themselves into 50 'Women Leaders Groups' (WLGs) in 30 districts across Pakistan. Each WLG brings together women from a cross section of Pakistani society, to form a joint platform based on mutual trust, to strengthen the collective voice of local women.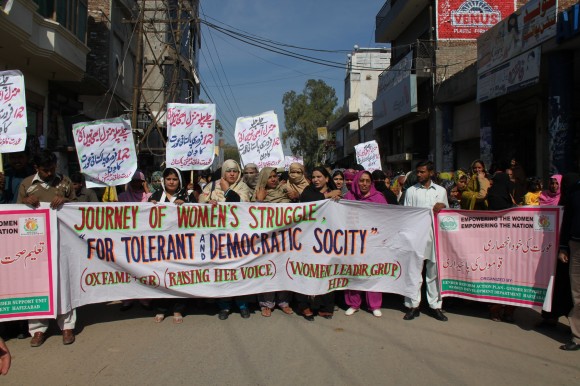 As Razia Sultana, WLG member from Rawalpindi puts it: 'I believe that men and women are created equal and therefore should be treated equally...The time is past when women couldn't raise their voice against violence...I want to help local women influence local decision makers. Being a woman leader has helped me accomplish my goals and I will continue the struggle'
Through this programme 116,000 women received Computerised National Identity Cards giving them the ability to vote, travel and access loans. Ninety WLG members ran for political office in the recent elections, 5 of these women won provincial assembly seats and 1 took a National Assembly seat, a fantastic achievement.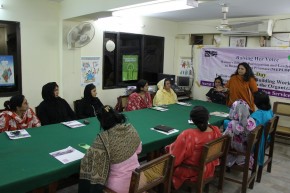 The biggest achievements of the programme however, have been the dramatic changes that these women have brought about in their lives and the lives of the women around them. All 1,500 women we worked with had stories to tell.
For example, the WLG Secretary General of Abbottabad said "Initially I would be accompanied by my brother when I went to government offices, but now I have the confidence to interact with government officers alone". On the voter registration day at Khamberanwala village in Punjab, few women turned out to vote. Women leaders went door to door encouraging women to vote. Through their efforts, 506 women registered.
There are also tales of women struggling collectively for their rights. For example a woman college teacher who had been harassed by a senior colleague, shared the matter with the WLG in Haripur. The WLG took the case to the college management, referring to the Harassment Act and the accused colleague was removed from his post.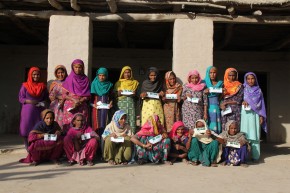 The energy and commitment these women exhibit, despite the challenges that they face in their personal lives, is very humbling for me. Meeting them and hearing their stories of change has always been an energizing experience. In fact in one of their meetings that I attended, I couldn't stop myself from remarking that "I wish I was a woman too, so I could join them!"
Despite all these achievements, the scale and complexity of challenges are immense and we have a long way to go, in achieving equity and equality for all the women and girls of Pakistan. The 1,500 women leaders of the RHV programme are however, enthusiastic and committed.  With support from DFID, Oxfam GB and Aurat Foundation, are now working on the next stage, which may include expanding the RHV programme to the rest of the country.
Oxfam GB has been working in Pakistan since 1973. Oxfam is currently supporting women and men in raising their incomes and achieving food security, supporting women's groups in raising their voices and position, facilitating access to education especially for girls, supporting local communities in mitigating the effects of disasters and in the aftermath of a disaster, providing relief and recovery support to the affected communities.
In the year 2012-13, Oxfam GB supported 650,000 persons (mostly women) directly and more than 1.5 million people indirectly through our advocacy programmes. Oxfam also supports the government and civil society organizations in developing and implementing pro-poor policies and legal frameworks.
Visit our website for further information about Oxfam GB and the RHV programme around the world.
Please note, this is a guest blog. Views expressed here do not necessarily represent the views of DFID or have the support of the British government.
Over the next few weeks we'll be highlighting our development support to Pakistan and how we're helping to push for change. We'll be linking up with partners from across the British Pakistani community who are making a huge contribution to Pakistan's development and promoting the positive voices for progress in country. To get the latest Pakistan development news straight to your inbox sign up for our quarterly newsletter.