Climate change has already created many issues for communities around the world, perhaps no more so than in Pakistan. Productivity of crops is at risk of decline due to increasing land desertification, increasing temperatures and loss of soil fertility. This sort of vulnerability makes adaptation to climate change a priority for the farmers in Pakistan. The country has a national climate change policy that was developed taking into account increasing incidence of floods especially during the monsoon season period. However, progress has been slow. Meanwhile, communities at the local level across Pakistan are continuing to be put under pressure and  affected by  climatic events, including monsoon rains and droughts. Action at the local level can help deal with the short-term effects of climate change.
Local Adaptation Plan of Action
A Local Adaptation Plan of Action (LAPA) is the community planning and action tool which aims to look at implementation of practical solutions to specific climate-related impacts affecting the communities for whom they are developed. LEAD Pakistan, in partnership with LEAD International and 45 partner organisations across the provinces of Sindh and Punjab in Pakistan, are pioneering the use of this social yet scientific approach in 12 districts to develop LAPAs, most recently for Shaheed Benazirabad district in Sindh during a workshop in Karachi.
30 participants (10 women, 20 men) worked through 8 tools designed by LEAD Pakistan to arrive at a practical  solution with impact to a relevant climate change problem in their local area around the town of Nawabshah. Before arriving at the workshop, local organisations had conducted a vulnerability assessment of the area and focused group discussions with residents to ascertain the most pressing issues. For example, there has been concern about the spread of waterborne cattle diseases increasing with flooding. These issues were analysed through the first sessions of the workshop in terms of their priority, intensity, support and reasoning to arrive at the one most appropriate for local action. In this case the irregular pattern of monsoon rains causing disruption to production of rice and cotton, either by flooding the fields or by heavy uneven rains, was identified as the top priority.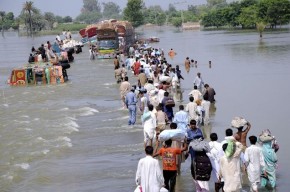 After the discussion on this issue, 3 potential solutions were proposed: 1) alternative crops; 2) better field drainage; or 3) early warning weather forecasting system. These were then analysed using similar techniques to the issues according to their positive and negative aspects, available resources, risks, and socio-economic benefits. The most effective solution identified after this process was to introduce alternative crops replacing rice and cotton in the local farming system.
Finally, the participants evolved a project plan for this purpose involving the selection and training of beneficiaries and also consulting with other stakeholders like local government. This  plan was then presented to the local government officials. Encouragingly, after a slow start, the officials became animatedly involved. They were convinced of the benefits of such a project and proposed which type of alternative crops would be best suited to the local situation (an area where the LAPA development group were unsure).
Micro-project
LAPAs, therefore form the basis for relatively low cost projects with high impacts at local level. With government buy-in, the success of such a project could have a significant impact on the livelihoods of an entire district.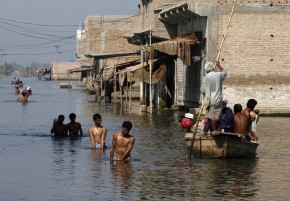 A LAPA developed earlier in the year by Muzaffargarh district in Punjab has now completed the first phase of its implementation with the construction and cleanliness of salinity drains to deal with increased soil salinity. This is a serious issue in the district where unpredictable rainfall, coupled with insufficient drainage, means that the natural salt stays in the soil and affects crop yields. Despite some initial delays due to harvest season and  elections in Pakistan, LEAD Pakistan's partner organisations have moved forward selecting their beneficiaries and running preliminary awareness sessions. They have even drawn the interest and subsequent involvement of the local forestry department to increase the impact of their work by planting trees near the project sites. They hope that this example of additional and unforeseen benefits will be the good trend with such projects, leading to a more resilient Pakistan.
LEAD International is the world's largest NGO focusing on leadership for sustainable development with programmes in 12 countries/regions. Together with LEAD International, LEAD Pakistan has delivered this project since 2011, concluding in 2015. This project is funded by the UK Department for International Development (DFID) as part of the Civil Society Challenge Fund. For more information about the project, please contact Haseeb Kiani or Nosherwan Shahid Sheikh, at LEAD Pakistan (hkiani@lead.org.pk, nshaikh@lead.org.pk).
Over the next few weeks we'll be highlighting our development support to Pakistan and how we're helping to push for change. We'll be linking up with partners from across the British Pakistani community who are making a huge contribution to Pakistan's development and promoting the positive voices for progress in country.
To get the latest Pakistan development news straight to your inbox sign up for our quarterly newsletter.
---
Please note, this is a guest blog. Views expressed here do not necessarily represent the views of DFID or have the support of the British government.