Last month, we hit a new digital milestone at DFID: we reached over 100,000 followers on Twitter. Frankly, my first reaction as a digital editor for DFID was a bit, well, "meh". So what?
But much like Ira Glass said – whose popular This American Life radio podcast reached its own milestone of 500 episodes – it would just feel a bit weird if we didn't mark it in some way. And with that, we tweeted: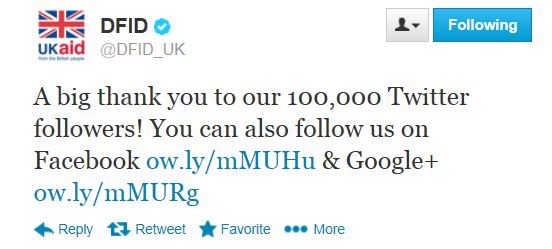 A sprinkling of retweets later and the moment had passed into the internet ether. No one else really cared. The question is – why should anyone care?
It's true we have worked hard to build our audience on Twitter over the past few years. One hundred thousand followers would have seemed a gargantuan number back when we started the account in 2009.
The number helps to bring home the fact that we're building up a significant audience that we can talk to directly. This isn't small fry anymore. We are beginning to reach people on a large scale.
In that sense, it's important that we marked the milestone to maintain support for what we do and what we can achieve. But talking about Twitter in this way is a traditional approach – akin to column inches, radio airtime or TV viewing figures.
As a team, we're trying to push that conversation further. Our role in the organisation is to use digital communications to help more people out there in the real world understand what DFID does and why it's worth doing. The numbers of people we reach is a part of that - but we must also talk about who we're reaching and how.
What we miss when we focus on numbers is how well we're actively involving people via Twitter – to help them talk to us and deepen their understanding of our work. We know we need to do more on this, and for all the constraints of being a government department, I think we have made some progress.
I've long admired the Foreign Office's #AskFS Twitter chats that connect people directly with the Foreign Secretary. In a similar vein, we recently held our inaugural Twitter chat with our own Secretary of State, thanks to my colleague Russell.
Going a step further, my boss Marisol used our own Twitter handle to give a voice to two young activists from Tanzania - Frank and Mwajuma - to let people find out what it was like to grow up in a country where hunger is the norm. I can't think of many better ways to help people in the UK get a real connection to what we do.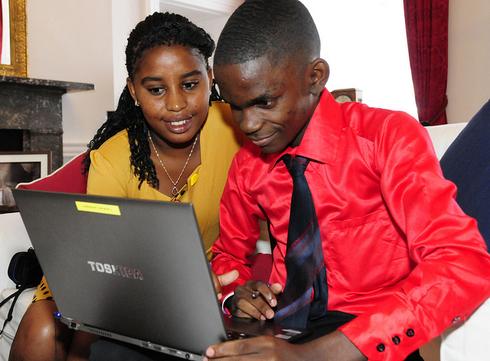 But the numbers also divert us from something else: who are we reaching via Twitter? Who do we want to reach? Certainly those who engage most regularly are those who already 'in the business' - policy people, development workers, foreign affairs journalists and charity supporters. This is not a bad thing - we need to talk to our stakeholders, and we are encouraging a network of DFID staff to do just that. But we need to find ways to reach a broader constituency.
And if we want to reach more real people, we must also join the conversations they are having and go beyond the usual topics.
In the wake of our 100,000 follower fanfare we marked another digital moment on Facebook with one of our most shared pieces of content ever: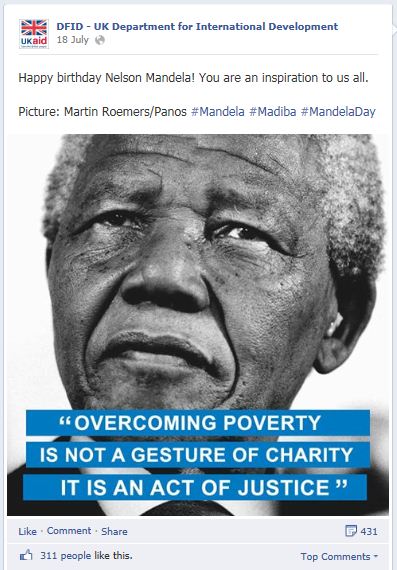 This was not a new bit of policy, announcement of funding or start of a new programme from DFID. But it did join the celebrations of a man who embodies what we're trying to achieve. And that meant people were happy to share it with their own friends, beyond our traditional base of supporters.
Talking to more people - and a range of people - is good. But it's just the start. Our ultimate goal is to end extreme poverty. As we reach bigger numbers on Twitter - and all our digital channels - we have an opportunity to translate the support of our followers into action, and to draw on their collective voice to help effect change.
When we talk about Twitter , we end up talking about our whole approach to social media. That's a pretty big topic – but I'd love to hear your thoughts so far. What do you think we should talk about?