Intense rainfall across Pakistan this monsoon season has driven tens of thousands of people out of their homes and villages for the fourth year running. They sought shelter on raised land or in school buildings, victims to another extreme weather event; a continuous cycle of disaster, fledgling recovery, and recurrent disaster.
I've been part of DFID-Pakistan's humanitarian team since late 2010 and travelled extensively across flood-affected areas of Southern Punjab and Sindh. It is hard to describe the enormity of these floods – old folk in affected villages often told me that they had never experienced such a phenomenon in their lives. Waist-high standing water as far as the eye can see, which dissolves mud-brick houses, washes away irrigation channels and reverses years of savings, development and hope.
In March this year I met Mai in a small village in Rajanpur (Southern Punjab) where our local partner HANDS had distributed emergency shelters, water filters and solar lights. Mai, a widow, lived with her four children in the ruins of her former home.  She recounted how she had lost everything they owned. She had little choice but to borrow money at high interest rates to buy food and pay for basic health care. Before the floods she had hoped to save enough money to send one of her daughters to school, but now that will be harder than ever.
Mai was trying to find manual labour work in agriculture, to earn about £2 a day, to repay these debts, but the floods had destroyed all the standing crops so there was no work to be found.  She explained that rebuilding their family shelter would be beyond her means for the foreseeable future. Inevitably, Mai and so many others like her would find some time to rebuild a basic mud and stick shelter, maybe using the old beam from their collapsed roof. This basic home would do until the rains returned the next year.
I stood there with my friends and colleagues from HANDS and other inspiring local NGOs, planning how we could help Mai rebuild her home in a way that makes it more resistant to this annual flooding; especially since climate scientists warn "extreme weather events" will become ever-more frequent and increasingly ferocious.
Mai is slightly more fortunate than others as she will benefit from one of DFID's latest post-flood recovery programmes. This will assist 50,000 families to rebuild their homes across Punjab, Northern Sindh and Eastern Balochistan, the areas worst affected by the 2012 monsoon floods. Reaching so many people is significant, made possible by the fact that we reduced the reconstruction costs to around £200 per house, among the best value shelter programmes anywhere in the world. We achieve this by training people like Mai on simple design improvements to improve the durability of their homes, such as raised plinths, extended roof eaves, and using lime in foundations and walls to make them able to withstand floodwaters. Our partner organisations provide training and cash grants to each household so they can buy the materials and manage the construction themselves.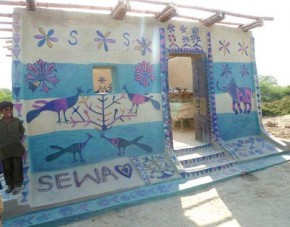 I am often reminded of the years my family and I spent building our own house in Portugal (although I am from Scotland). That was where we practiced and understood the value of natural materials in construction: our home is built of stone, wood and straw, using a fair bit of clay and lime. We learned first hand about the function of roof eaves – they protect and save the top of the walls! We learned about good foundations and the incredible capacity of lime to keep water out, while allowing the walls to release any water trapped inside. Like Gore-Tex for houses!
In Pakistan, several consecutive years of flooding taught us a lot about resilient shelters; I have been able to introduce some alternative – and far more sustainable – approaches to building. With these new designs, I'm confident that we have reduced deforestation and so far avoided the release of over 100,000 tonnes of carbon dioxide into the atmosphere by not using cement and fired bricks. We keep looking for new ways to reduce environmental impact, do you have any ideas?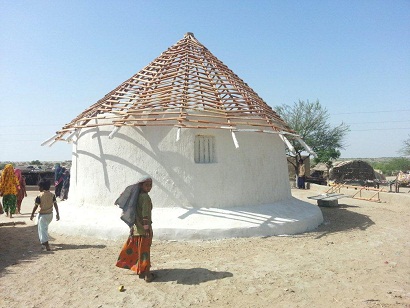 This month we are coming to the end of a massive post-flood recovery project in areas affected by the 2011 floods. We supported 45,000 families to rebuild flood-resistant homes (about 10% of the total number of houses destroyed in the 2011 floods), and helped a further 60,000 families recover their livelihoods by providing seeds and fertiliser. We supported the plantation of almost 200,000 trees that can provide fruit and income for people, as well as fodder for animals. We introduced kitchen garden training for women who had never before planted vegetables around their homes – saving them money and bringing more nutritious food to the table (malnutrition is a real problem across these flooded districts).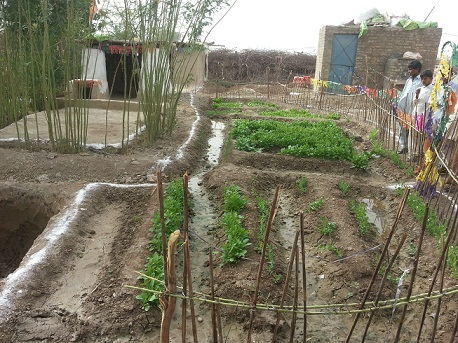 Since the 2010 floods UK humanitarian support has helped more than 5 million people in Pakistan – providing immediate life-saving help and supporting families to recover.
I really believe that all these initiatives help people recover in a way that restores their dignity – they are doing all the work themselves, not sitting back and letting outsiders do it for them – and increase their resilience to future climate-related disasters. We continue to learn from this work and, based on this knowledge, we can make a strong case for building resilience across Pakistan over the coming years, together with the Government and civil society organisations.
----------------------------------------------------------------------------------
Are you interested in development issues and the UK's support to Pakistan? Sign up to receive our quarterly newsletter which includes new announcements, case studies, photos and blogs on our work as well as jobs and funding opportunities.