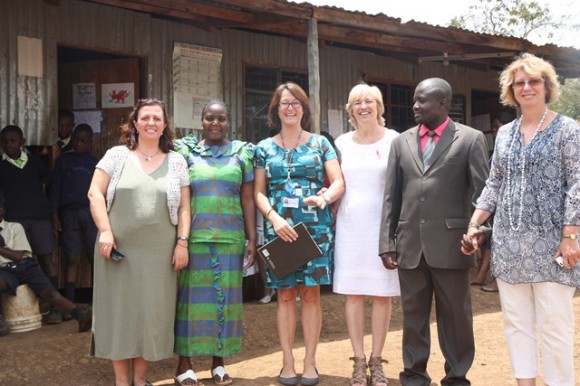 DFID Kenya had the pleasure of welcoming celebrity Millie Banks to her new home in Nairobi recently. For those of you for whom tales of Millie's celebrity status hasn't yet reached – and there can't be many left – Millie is the teddy bear mascot from Millbank Primary school in Cardiff. Millbank Primary is linked to AMAF school in Riruta, one of Nairobi's poorest areas. The school is in an informal settlement which is affected by HIV and AIDS and so many of the children in the school are orphans.
DFID Kenya had been asked if we could complete the final part of Millie's journey by taking her to AMAF school. On arrival at the DFID office she told us her flight had been a comfortable one, though a little dark in her box in the airplane's hold. And ahead of taking up her new role at AMAF school, she spent a week with us attending some of our meetings and visiting some of DFID's education programmes to see for herself the impact that UK taxpayers' money was having on the ground. She was accompanied during her visit by DFID's Director of Africa, Rachel Turner, and myself as Head of the Office here in Nairobi.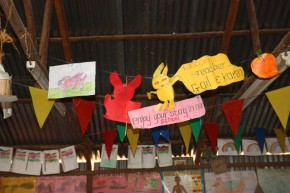 Millie was interested to hear that with the introduction of free primary education 10 years ago, Kenya had made remarkable progress in getting more children into school. Almost 95% of primary school-age children are now thought to be in school and 8 out of every 10 children finish primary school, which is the highest figure yet. But she heard that the quality of what children learned was a big challenge in many schools and that less than half of children pass the Kenyan primary school leaving exam. She found out that there were also some children that don't go to school at all….around 1 million to be exact. Millie thought that was a big number and remembered that that was higher even than the 600,000 children who lived in the whole of Wales. She heard that getting girls to go to school in the arid lands of the north and east of Kenya was particularly difficult. Only a quarter of girls there were going to school and she remembered all the girls at Millbank Primary who waved her off before she left.
We told Millie how UK taxpayers' money was helping to close these gaps. Just in the last year aid from UK has supported 5,300 boys and 3,700 girls to go to primary school in some of the poorest areas of Kenya. And about 600 of some of the poorest children in the country are being funded to complete 4 full years of secondary school. For many children, completing secondary school means a much better chance of getting a well-paid job. The UK is also training teachers and providing textbooks to help nearly 30,000 young children in primary school to learn to read and write and will help make around 300 boarding schools in Northern and Eastern Kenya better, safer places for the children there to live and learn.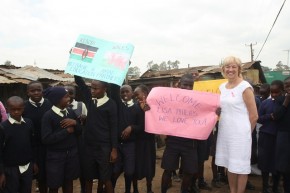 The day finally came for Millie to take up residence at AMAF school. She told me in the morning that she was a little nervous. Miss Allen and Mrs Brown from Millbank school in Cardiff had arrived a week ago to make sure everything was well prepared for her arrival. The teachers told me later that the children of AMAF were so excited at the prospect of seeing their new resident. They had been practicing their welcome, and like most children, had secretly enjoyed being let off a few lessons to do that. When we arrived with Millie, the show started. The road into the school was too difficult for our car to navigate so Millie and I had to walk the final 200 metres. The Head, Peter Lalo Outa, later described the road as sometimes knee deep in mud in the rainy season and how the disabled children in the school had to miss school then because they couldn't make the journey. But our day was a dry one and as soon as Millie got out of the car the singing and dancing started. There were many speeches too. And not to be left out, 2 mascots were despatched back to Cardiff with the Millbank teachers. They were a cuddly elephant and fluffy lion donated by the children of DFID Kenya staff. The children of AMAF decided to call the elephant…well perhaps inevitably…AMAF ….and the lion mascot, Simba.
I have checked up on Millie recently to make sure she is settling in well. She tells me she is. When the AMAF children go to the local centre to Skype their friends in Cardiff, she goes with them and catches a glimpse of home. She tells me she feels proud of being in Kenya though, and now knows what it means to be a global citizen. She is very much enjoying her new home in Nairobi.