Tanzania's Big Results Now! service delivery performance improvement initiative moves into its first full year of operation in 2014, with considerable interest in the national examination results that benchmark targets signed up to with personal commitment from Education Minister Shukuru Kawambwa.
Results from the 2013 primary school leavers examination saw a large positive upswing following a big drop in 2012, but there was considerable debate over whether this was due to improved pupil learning or other factors such as a change in the format of the examinations or the absence of teacher strikes. In secondary schools the government has lowered the threshold for students to continue beyond Form II, but is insisting upon remedial lessons for those that score poorly.
How to factor in these variations into new results based programmes of support to the Tanzanian education system is complex. While there is a desire to link aid to tangible measures of improved delivery, the large variations year on year mean that it is risky to depend upon national average scores and instead the principal of rewarding improving schools with both cash and non-financial recognition awards is being introduced.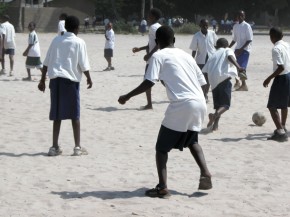 I was interested to note that the 2012 Tanzania Uwezo community based learning assessments results found that while measures of children's literacy in either Swahili or English were still low and static, that there had been improvements in Mathematics for 9 -13 years olds in comparison to the previous year. The extent this tallies with the government's rollercoaster examination system is perplexing and highlights the sub-title of the Center for Global Development Lant Prichett's new book The Rebirth of Education, that Schooling ain't Learning.
Lant Prichett argues persuasively that the large and tangible increases in school enrolment across the globe in the past half century have occurred regardless of a countries relative growth or democratic system. Whilst laudable, this increase in 'schooling' has for many students in low income countries not resulted in increases in measurable learning, the raison d'etre of education. He attributes this phenomena to the creation of spider like centralised control systems that may expand rapidly its domain and feed back vibrations from its web of informants to the dominant centre, but be unresponsive to local accountability loops that hold schools and teachers to account to deliver better quality education.
Many of the examples provided in The Rebirth of Education use data from the mass Indian ASER tests that was used as model for the East African Uwezo assessment cited earlier. Indeed Dr Pritchett's book cites low Tanzanian exam scores from 2012 and low progression in average grade specific Uwezo learner attainment as examples of a spider system that is delivering schooling, not meaningful learning to it's students.
Whilst not prescribing a solution to this conundrum, Dr. Pritchett does propose that some kind of 'starfish' like organism may prove a better biological analogy to model systems of education. Starfish, of which I've observed many on Tanzania's tropical coastline, are decentralised organisms with only a loosely connected nervous system.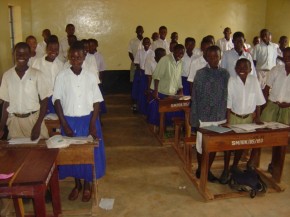 More open education systems that allow autonomy in decision making and are accountable to community pressures are certainly principles that many Western education systems are adopting with rapid growth in charter and free schools. However schools still need professional networks of teachers, expert support and finance to operate and prosper, factors that impede the quality of education in resource constrained, low income countries.
Countries such as Tanzania, that have rapidly expanded its education system to meet the MDG goals and aspirations of its citizens for universal education, have a dilemma in how to meet this challenge of expansion whilst maintaining a meaningful rate of learning acquisition. Whether a biologically improbable hybrid of the spider – starfish is viable, remains to be seen.