Last year, on International Women's Day, I wrote a blog from a cold and frosty New York at the Commission on the Status of Women. It was a hugely exciting event as DFID announced their programme towards ending female genital cutting in Africa and beyond.
This year, 11 months later, on International Day against Female Genital Cutting (FGC), I am writing from a cold and frosty Copenhagen, where Orchid Project is hosting an event that will see Danish people from all walks of life meeting to hear about the hope and possibility that FGC can end in the next generation. We're delighted that the US Ambassador to Denmark will be joining us to speak at the event.
It has been an extremely positive 11 months. Every event we do, from talking in schools to discussing with donors, to presenting at large events about social change, we attract more interest from people who want to understand how difficult issues like FGC can be supported to end, through sustainable change.
Understanding FGC as a social norm has underpinned our work at Orchid Project. Through our partners, we know that a parent will have their child cut because they believe it is the right thing to do, but also because the community believes it is the right thing to do. It is difficult for individual families to stop the practice on their own, for risk of social sanctions. For a community to abandon FGC there must usually be a collective process of deliberation, followed by a public declaration.
UNICEF has cited public declarations as a key element of the change process. It is only by committing to end the practice in the presence of friends and family and to witness the same from them, that a decision to change can be made confidently and collectively.
It is why today, 6th February, we are delighted to be supporting a declaration of abandonment by communities in Mali - where for the past 3 years, 38 communities in Mali have been participating in Tostan's Community Empowerment Programme.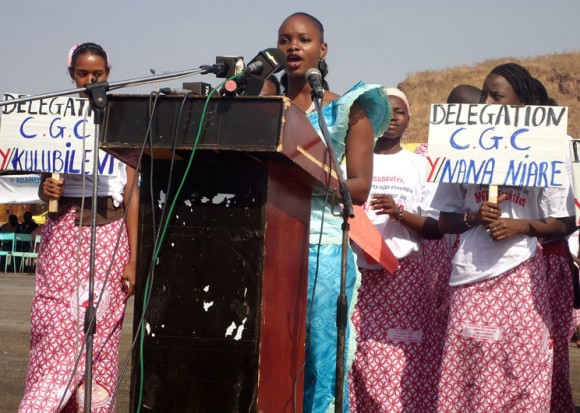 We partner with Tostan, funding awareness raising programmes in Senegal. Following the coup d'état in Mali in 2012 and the resulting suspension of funding, Orchid Project and other funders stepped in to support the communities to complete the 3 year Tostan programme. Last summer, 24 of these communities, all rural, opted to publicly abandon FGC, yet the remaining 14, all urban, felt they were not yet ready.
Subsequently, much social mobilisation work has been done by community members and Tostan, to gain this consensus. Communities have continued to discuss the issue of FGC among themselves. Tostan have continued educational outreach. The communities have now come to the decision, collectively and through a process of debate, to end FGC. They have the support of their community leaders, their government and most importantly of each other. Yirimadio, where the declaration is taking place, is home to over 60,000 people.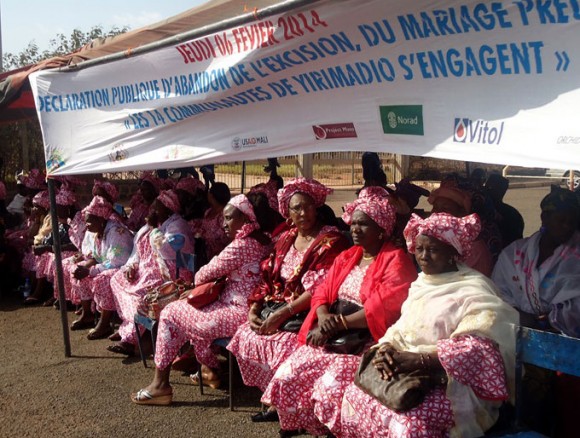 This declaration is the first in a series of steps which will just be beginning on Thursday 6th February. Those that have abandoned will be supported to reach out and tell their friends, their families and their neighbours about their choices; the impacts of this declaration will continue to ripple through the next few years.
"I am here to declare our abandonment of female genital cutting," said Mah Cissé, President of the CMC (Community Management Committees) Federation of Yirimadio. "I am here to stand up and tell the world that FGC is not a good practice. I declare abandonment so that this may scale up in other neighborhoods of Bamako and in other countries."
This is the first declaration of Tostan partner communities in an urban setting and only the second public declaration of abandonment in Mali. We are constantly learning more, reaching out further and working with more and more communities, as the message of abandonment spreads. These communities in Mali will then join a larger movement for the abandonment of FGC in Africa; the same movement that DFID is now supporting through investment in the United Nations Joint Programme and the same movement that we believe will lead to an end to FGC within the next generation.
Film: Girls from practicing countries reading a declaration that they won't be cut
----------------------------------------------------------------------------------------------------
Find out what the British government is doing to help end female genital mutilation - read our policy and news story.
Please note, this is a guest blog. Views expressed here do not necessarily represent the views of DFID or have the support of the British government.