Last month I highlighted in my blog how I had learnt from colleagues about the huge waste of food caused by 'post-harvest' losses. Up to 30% of food, even in countries with high rates of undernutrition can be lost between the field and the plate. This is not only a waste of food, but also an enormous financial loss to these countries – estimates from Africa suggest that the food lost in that continent alone has a value of approximately $48 billion a year! As you can imagine, this is an area of very active research in many countries.
This week in The Guardian, Jeff Waage highlights that national agricultural policies don't always prioritise nutritional improvements in populations. Indeed, in some cases they may actually cause harm in the populations. The Global Panel on Agriculture and Food Systems for Nutrition has recently been established to advise government decision-makers on how to generate nutrition-enhancing agricultural and food policies in poor countries. It seems a 'no brainer' getting people to grow foods that will ensure that they and their communities are well nourished.
So this month I learnt more from my clever agricultural colleagues about the new research underway to enhance the nutritional quality of foods to ensure that our everyday diets are more nutritious and we have less need for dietary supplements.
The idea is to grow varieties of our usual crops that are enhanced with micro-nutrients and minerals in order to help combat deficiencies. Much of this can be done using "selective breeding" methods whereby fruit and vegetables maintain their usual taste and appearance, but in addition have improved nutritional content. If people swap from growing their traditional crop varieties to these enhanced varieties, this can provide an increase in the amount of vitamins and minerals that people eat on a daily basis.
Two good examples are:
Orange-fleshed sweet potatoes.
Currently about 1 in 3 children globally are deficient in vitamin A. These potatoes have been selectively grown to have higher amounts of beta-carotene in them which is converted in the body to vitamin A. This is essential in stopping blindness and ill health, especially among young children.
Bean that are rich in iron.
Globally about 20% of women are anaemic, partly because they lack iron in their diets. It is hoped that the consumption of these beans will improve iron status and reduce this risk of anaemia.
Dr. Alan Dangour works at the London School of Hygiene and Tropical Medicine and has just returned from a research trip to Bangladesh where he is working with BRAC (the world's largest NGO) on a DFID-funded collaborative project called LANSA. This programme aims to deliver high-quality evidence to help define how agriculture and agri-food systems can improve nutrition especially in women and children. On his return he told me: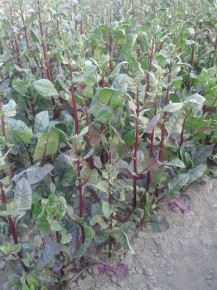 "Considerable agricultural research efforts are underway around the world to develop crops that have improved nutritional quality. For example in Bangladesh crops such as spinach and okra are part of the traditional diet, and if they can be bred to have enhanced nutritive value, such as greater beta-carotene levels, this may result in important benefits for nutrition and health."
Alan also visited the BRAC Agricultural Research & Development Centre in Gazipur where they are developing varieties of vegetables to try and increase their yields, consumer appeal and nutritional value. Researchers in the centre are working, among other things, to increase the amount of iron in spinach and the amount of Vitamin A in okra.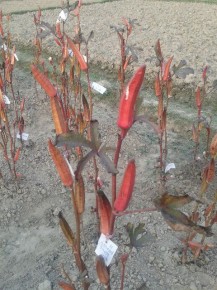 Dr. Sitesh Biswas from the research centre said that while the research was still at an early stage, "these innovative agricultural methods provide an indication that new varieties of traditional locally-used vegetables can be developed that have improved nutritional quality". Red okra (or ladies' finger) is 1 such vegetable, cultivated with a beta carotene content nearly 8 times as high as the normal green variety as well as having higher yields. Work is underway to test consumer demand for this more unusual red okra, but agricultural innovations such as these can be easily introduced into the normal diets of whole populations and could be really important for improving nutrition in many of the poorest parts of the world.
Keep in touch. Sign up for email updates from this blog.