Every week we hear about Pakistan's appalling poverty indicators, some of the worst in the region. Every week somebody declares an 'emergency'. Every week a politician says we must do better. Every week a disillusioned public refuses to believe it can happen.
But, imagine a Pakistan where the government has identified the poorest and most vulnerable families. Where every month the mother receives a small amount of money to keep her family from destitution and extreme hunger. Where Pakistani taxpayers help to send the family's children to school, and provide vocational training to help develop the skills necessary to earn a living. And where government, NGOs and donors target their support towards the same people, so that they can lift themselves and their families permanently out of poverty.
Is this possible? Yes. In fact Pakistan's national Income Support Programme (BISP) has already identified the poorest households across the country, using a carefully designed and tested score card. Five million women and their families are already receiving small cash payments (Rp 1,200) every month so that they can purchase essential food and medicine. This will expand to seven million families by 2018, nearly 50 million people.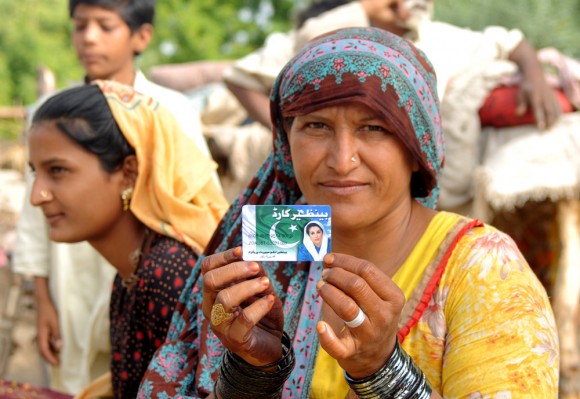 Recognising the strength of the BISP scheme, Chief Minister Shahbaz Sharif's new Khidmat programme will provide an additional Rp1,000 each month for the poorest families in Punjab. But to realise the vision of a 'welfare state' for Pakistan's poor, the government needs to go further.
The basic cash transfer needs to be delivered on the same day each quarter  - only then can people plan to use the money effectively. In his first budget, Finance Minister Ishaq Dar took the bold decision to increase the basic transfer by 20% to begin to restore its value after years of inflation. Further increases will be needed in coming budgets. Even then, at 12% of the minimum wage, the cash transfer will remain too low to distort the incentive to work or create a 'dependency culture'. And to ensure effectiveness, the poverty score card survey will need to be re-run every few years.
At present, only 30% of children in these poorest families go to school. The government needs to roll out its plan to provide each family with an additional Rp 200 per child every month if their children have an 80% attendance record at school. All the evidence indicates that this will help keep their children in school, and that basic education will improve their children's life prospects.
Nearly half of all under 5s in Pakistan are chronically undernourished. This stunts mental and physical development, lowers IQ and achievement at school, and reduces earnings in adulthood. These children are half the future workforce of Pakistan. So why not use the scheme to provide them with essential food and nutrients so that they have a productive future?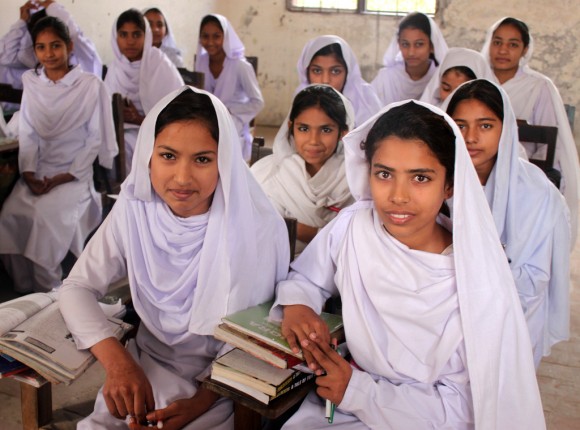 And instead of wasting money and time designing new targeting mechanisms for every anti-poverty programme, government and donors need to use the same poverty score card for all interventions. Not only would this be efficient but it would significantly improve the effectiveness of overall efforts to reduce poverty.
Can it work? Yes. The international evidence shows women receiving cash grants invest in their families, keep their children in school, feed them better, and buy medicine and health care. If there are natural disasters, family bereavements, or other crises, families are less likely to be forced to sell their livestock and other assets to survive. Over time, this future earning potential helps to break the cycle of poverty from generation to generation.
And there are indirect benefits too. The women receiving the money have to register for national identity cards (CNICs), which means they can vote and access legal rights such as owning land. With payments made through ATMs and mobile phones, women are able to communicate and use financial services often for the first time.
In Brazil, the anti-poverty scheme Bolsa Familia ("Family allowance") helped reduce poverty by a remarkable 28% during the first term of President Lula da Silva's administration, and helped reduce inequality by 20% since 2001. It has significantly increased school attendance and reduced child labour. A similar scheme in Mexico has been credited with lowering illness, increasing school attendance and providing more balanced diets which have reduced stunting – children in benefitting families have had a 16% increase (equivalent to an extra centimeter) in growth per year. Having seen the evidence, India has recently decided to go down the same road as Pakistan!
Can Pakistan afford it? The total cost of BISP is around Rp 75 billion a year, only 1.6% of the federal government's expenditure. This compares with 26% spent every year simply paying interest on debt and another 14% on the military. Given the cost of poverty to the economy and society, the question is: can Pakistan afford not to invest in its people?
Imagine a government with the courage to accept that a third of its people live on less than Rp 50 a day. Imagine a government with the maturity to take a programme introduced by its predecessors and make it the centre piece of its development effort. Imagine Pakistan using biometric data and empowering women to build a world class programme – financed mainly by Pakistani taxpayers - to lift the poorest people out of poverty. It can happen. This year. How often can you say that?
Keep in touch. Sign up for email updates from this blog, or follow UK in Pakistan on Twitter.
---------------------------------------------------------------------------------------------------
This blog was initially published as an op-ed on Pakistan's Express Tribune.
Are you interested in development issues and the UK's development assistance to Pakistan? Sign up to receive our quarterly newsletter which includes new announcements, case studies, photos and blogs on our work as well as jobs and funding opportunities.