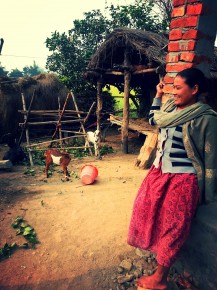 Menuka Rana, a housewife, is a proud owner of a piglet and 2 young goats she bought with her first loan from a microfinance institution. Until recently, her village did not have a regulated financial institution and loans from the informal sector were only available at absurdly high interest rates.
Dharma Rana Magar, Menuka's husband, is a migrant worker who works across the border, in India. According to Menuka, Dharma first went to work in India as a labourer in a local steel plant at the age of 13. Because of their migratory status, workers like Dharma are usually excluded from the financial system. Often, they are even excluded from self-help groups and microfinance institutions; but the challenges of migrants don't end there. After a little more than 20 years earning money and remitting it across the border to his family, Dharma is now being forced to retire, like many migrant workers, at a relatively young age of 35. The influx of younger labour due to the lack of opportunities in one's own country is pushing the older workers out.
"After that, he'll come home," says Menuka. "He may or may not find work again. We could be poor again."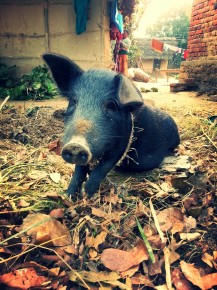 In the past, the issue of migrants' access to banking services was not considered a priority compared to other livelihood needs and to other aspects of their economic and social integration. However, as inward remittances continue to contribute up to a quarter of the country's GDP, this concern has become more important. The standing point is that not all migrants are poor people; nevertheless they often face difficulties to access and/or use of financial services. We have to consider, then, that they often have specific needs that may be not properly addressed by the supply side. Serving immigrant customers and their families means developing strategies that can reduce the various barriers, build trust in the banking system, and thus avoid immigrants remaining unbanked. To this end, banks have to re-invent customer relations and develop strategies, such as tailored outreach and targeted marketing that bring these products and services to rural consumers.
DFID Nepal's Sustainable Access to Finance and Livelihood Programme is currently working with financial institutions in remote districts of Nepal to facilitate expansion of financial services to the underserved, including families of migrant workers. The programme identifies potential customers such as Menuka, and strengthens relations by matching customers with higher-end financial products, such as agricultural and housing loans which ensures social security for the migrants when they return home.
Although the cost of these strategies is high, the business opportunity is clear. Financial institutions looking to increase their customer base have become increasingly interested in reaching out to untapped rural markets, bringing them into the financial system and establishing long-term banking relationships. Now, with development partners on board, they rightly continue to push themselves to create systems that respond to new realisms such as identifying productive avenues for remittances that will lead to a sustainable investment model.
Keep in touch. Sign up for email updates from this blog, or follow DFID Nepal on Twitter.