It always strikes me on my visits to Africa how imaginatively people use their mobile phones. Mobiles are not just for calls, texts or browsing the internet. Instead they are used to transfer money, like I saw on my last trip or to access vital health care products, like I saw today.
In Mozambique there is limited access and knowledge of family planning and other health services. In rural areas families find it difficult to get to hospitals and pharmacies, because they are often too far away and transport is limited. Half a day spent travelling to a hospital means half a day less of work. At the same time the shops that are accessible often only stock 2 or 3 items, and they are the products that sell the best. This doesn't include healthcare products and as a result only 12% of the population use contraception.
The charity I met today – Population Services International (PSI) – is changing that. They use an innovative system that creates both demand and supply for health products. People are invited to attend a health education seminar after which they receive mobile phone vouchers for health products which can be redeemed for free at shops and pharmacies. This not only encourages people to use contraceptives but also encourages shops to stock them. At the same time it also generates a network of wholesalers and 'Avon Lady' style distributors. They go door to door encouraging people to take-up the products, which are still free to the customer, whilst the 'Avon Lady' earns a commission. This dramatically increases access while also giving people the chance to earn an income. Today I met a star seller who has been so successful that she could start building her own house.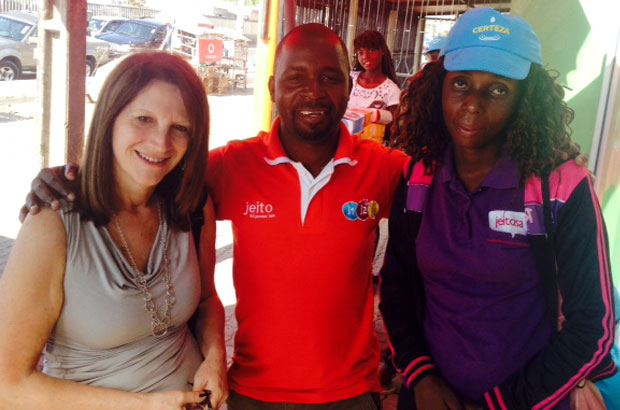 It is a truly innovative scheme with a massive impact. More than 370 small shops are involved already. This year alone 24 million condoms, 1.5 million water purification products and 1.5 million packs of micronutrient powder will be distributed this way. And the £2 million UK funding I announced for PSI this week will help them reach more communities and expand the range of services available.
Supporting the establishment of community supplier networks is one way DFID is helping development in Mozambique. With so many smallholders trying to make a living from agriculture, joining a supply network is a good way to earn a living.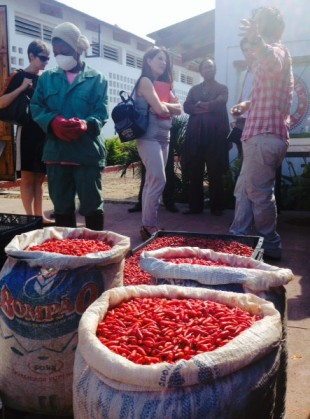 I saw this in action today at Elephant Pepper which is a commercial farm hub for chillies grown by local community farmers in a grower network. Thanks to these Mozambican farmers you can enjoy Nandos spicy Peri-Peri sauce. In fact around 39 metric-tonnes have been delivered to Nandos UK from Mozambique. At the same time around 300 farmers have been trained in agricultural skills which are allowing many of them to provide vegetables to Spar supermarkets.  It is through this type of programme, supported by DFID, that new enterprises have been established and existing ones expanded.
Both PSI and Elephant Pepper rely on strong and productive networks for their success. They showed me how much potential there is in Mozambique, and how one imaginative idea can transform behaviour and empower communities.
And next time I go to Nandos in Wood Green, I will look at Peri-Peri chicken in a whole new way.
Sign up for email updates from this blog, or follow Lynne on Twitter.