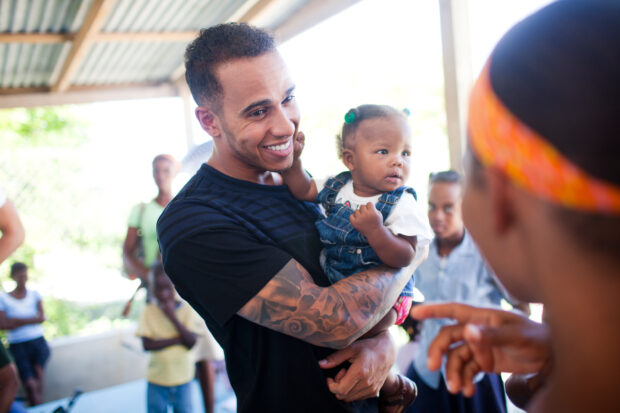 With the Formula One season in full flow, you could be forgiven for thinking that my life at the moment is focused on non-stop training, qualifying and racing. It's often difficult to find time for anything else, but earlier this month I was able to visit Haiti with UNICEF, the world's leading children's organisation, to make an appeal film for this year's Soccer Aid, which returns for the fifth time on Sunday 8th June.
The match will see two star-studded squads - England and the Rest of the World- compete at Old Trafford all in aid of UNICEF, which works to help every child reach their full potential.
I started supporting UNICEF back in 2012, when I visited the Philippines to make a short appeal film about street children that was shown during Soccer Aid that year. I met just a few of the estimated 85,000 children who live and work on the streets of the capital, Manila, struggling to get enough food and stay healthy and who are often unable to go to school.  The trip was a real eye-opener for me, and made me determined to use my position to raise awareness of issues facing children like the kids I met in Manila.
Then later that year I had the opportunity to see UNICEF's new programme work with sick new-borns and children affected by hunger and malnutrition in India. I visited the new-born care units and rehabilitation centres for older malnourished children, witnessing first-hand the devastating effects of hunger on mothers and their babies in a country where over half the children under-five are affected by malnutrition.
Both of these experiences showed me just what incredible work UNICEF does, all around the world, and as a sportsman in the public eye, I know I have a role to play in helping to tell the stories of some of the world's most vulnerable children. So when I was asked to make another appeal film this year I was really keen to be involved. When I found out I would be travelling to Haiti the trip took on greater significance for me, as my family is originally from the West Indies and I have relatives all over the Caribbean.
Haiti wasn't a country I knew an awful lot about, but I knew it had seen a lot of suffering in recent years. In 2010 Haiti was struck by a devastating earthquake, which killed over 200,000 people and left millions homeless.  A lot of money was raised for Haiti after the earthquake struck and things did get a bit better for a while, but as funding dries up conditions have started to deteriorate and malnutrition is on the increase again.
In Port-au-Prince, the capital, I met some of the children and babies suffering from malnutrition, which causes a third of all deaths of children under five in Haiti. Many families are struggling to survive day in, day out because they don't have enough to eat.
One of the children I met was a two year old boy called Dovensley.  As his family often can't get enough food, Dovensley hasn't grown properly and is so weak he hasn't been able to learn how to walk. When you see a two-year-old child, who should be laughing and playing, but doesn't even have the energy to move, it's really upsetting.
Every year millions of children die from malnutrition. And hundreds of millions don't get the vitamins and minerals they need to develop properly, like Dovensley. It shouldn't be like this, and by supporting Soccer Aid you can help UNICEF change children like Dovensley's lives.
With the UK Government matching all public donations pound for pound we can reach even more children with the life-saving food and medicines they need.
No child, no matter where they live in the world should go hungry or lose their life because they or their family don't have enough to eat.  That's why I'm asking everyone to tune in to ITV on June 8 and give what they can.
Soccer Aid takes place on Sunday 8 June. For tickets or to donate to UNICEF visit itv.com/socceraid. All public donations will be matched pound for pound by the UK Government, up to a maximum total of £5 million.
Lewis Hamilton MBE, 29, is a British Formula One Champion and has been a UNICEF UK Supporter since 2012. He has travelled with UNICEF to the Philippines, India, and most recently Haiti, where he made an appeal film ahead of this year's Soccer Aid. 
---------------------------------------------------------------------------------------------
Please note, this is a guest blog. Views expressed here do not necessarily represent the views of DFID or have the support of the British government.
Keep in touch. Sign up for email updates from this blog.