I have been something of a habitual weekend flier to and from New York over the last year (although I still barely know the city outside the vicinity of the UN) and I've clocked up a few UN General Assembly Ministerial Weeks (UNGAs) too. Nevertheless, as I prepare to pack my bags for the biggest week in the international calendar, I am unusually excited by the days ahead. Partly this stems from the realisation that, all being well, in a year's time I will be making this same trip to mark the unveiling the new global development goals. As the UK's Post-2015 Envoy, September 2015 - when the new goals will be unveiled - has always seemed an intangible way off.  Yet, with a year to go, it now feels almost within touching distance.
Part of this excitement also comes from the huge strides we have made over the last couple of years. First, Rio+20 agreed on the concept of universal sustainable development goals. Then the UN Secretary General asked the Presidents of Indonesia and Liberia, and my own Prime Minister, David Cameron, to co-chair a High Level Panel on the post-2015 development agenda.
Some of the Panel report's ideas – leave no one behind, a data revolution, global goals and zero targets, sustainable development at the core, transforming economies for jobs and growth, building peace and effective, open and accountable institutions, a new global partnership – have become common currency within the post-2015 debate.
I get asked all the time by NGOs to ensure that the UK government is continuing to push these priorities. And after a year's worth of discussions between Member States at the UN, we have a further report from the Open Working Group that reflects the tireless efforts of member states to propose a rich and wide-ranging set of potential goals and targets on which we can build.
I am particularly pleased that the working group has proposed goals that will end extreme poverty once and for all and on equality for girls and women. We also joined many other member states in building the case for goals on peaceful and inclusive societies and accountable and inclusive institutions.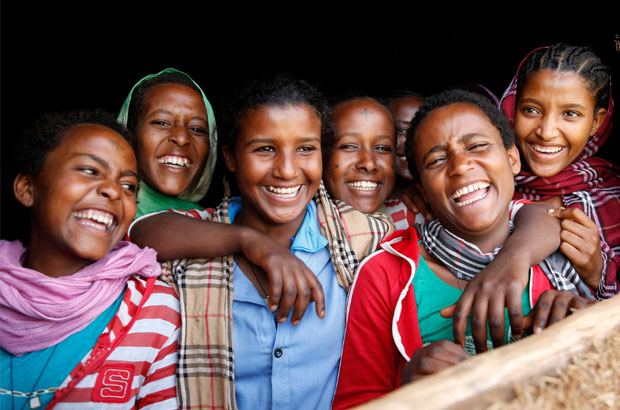 On Wednesday 24th the UK government will co-host, along with the government of Ghana and Transparency International, an event on the importance of governance, transparency and accountability. These are critical issues – without them peace is threatened, poverty entrenched and prosperity a pipe-dream – and they must be included in the final set of goals. I believe that we must listen to those many voters in the MY World survey of nearly 5 million people who have identified an honest and responsive government as an issue that sits alongside health, education and jobs as the top priorities for the post-2015 goals. It is right that these issues remain the fore through to September 2015.
For all this progress, I must also confess to nervous excitement, because we still have a lot of work ahead. As I look at the 17 goals and 169 targets proposed by the Open Working Group, a huge achievement, I am nevertheless reminded of those Swiss army pen-knives in vogue when I was younger. The ones with hundreds of potentially useful bits, suitable for any and every eventuality, but so big they were unwieldy and unused, invariably left at home. Faced with such a device, you hanker after something smaller, more practical, and you need to know that it has the right tools for the tasks that most need doing (for a better analogy see the "169 times good cake" argument). We are still some way away from a set of goals that inspires action, is genuinely workable, and can be used as a basis for accountability locally, nationally and internationally.
Does this mean we should start from scratch – tear up the Open Working Group Report and other proposals on the table? Of course not – we have, through months of inspiration and perspiration, a fantastic foundation on which to build. But let's not forget that the power of the Millennium Developmen Goals lay in the fact that they were simple, compelling, and easily understood by all.
The opportunities are momentous – the eradication of extreme poverty within a generation, the integration at last of sustainable development within a global development framework, the empowerment and protection of the poorest and most marginalised, and the creation of institutions that foster a world we all want to see.
But the risks, with a year to go, are stark. If we press pause, if we sit back and say that what we have is "good enough", we will have failed in our responsibilities. Those of us building these goals - member states supported by the UN system, civil society, foundations, business and so forth - have the duty to build a framework that, well, works. Some worry about the risk of losing their pet issues, others about how to find the time for yet more discussions. But if we include everything, we prioritise nothing and the system buckles under its own weight. If we rest easy (or "cash the chips"), we have failed the very people that we owe most responsibility to, and we lose a generation of progress.
Over the course of this week, the UK will be championing the need for an inspiring and workable post-2015 development agenda that does justice to all the efforts of those who have already contributed – including the millions of citizens who have told us their hopes and dreams, be it face-to-face or through the internet. We want others to join us in this call, not least those who will have a huge hand in putting this into action – for example, ministries in least developed countries and the UN itself.
UNGA will come and go in a flash, as it always does. I hope it is the flash of a lightbulb moment, as we realise what is at stake and the fantastic potential that we have within our grasp.
Sign up for email updates from this blog, or follow David on Twitter.