I am the new Head of Profession for Social Development at DFID. I will be using this space to highlight new research, policy and ideas for social development that are brewing in DFID and worldwide.
This week I am going to talk about a visit we had from the World Bank about their new report on Women's Voice and Agency. You might be wondering what is meant by 'voice and agency'. Simply put together they mean the extent to which i) women are able to make their views known and heard and can influence decision-making and ii) the power they have to take decisions concerning their own lives. A lack of voice often goes together with a lack of ability to make one's own decisions.
We tend to think of inequality in terms of poverty, access to health care and schooling and such things. These are all important but are often the result of women simply having less power and influence – often so little as to not even be able to live without fear of violence in the home. Quite shockingly, looking at the data in the report worldwide around 40% of women have experienced domestic violence during their lifetime.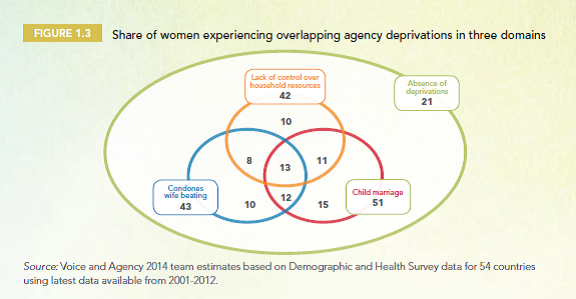 As you can see from the figure above, the World Bank highlight how women's lack of control overlaps in many areas. A lack of income and limited access to education (particularly secondary) is correlated with suffering domestic violence for example. It also shows how these things change as women get access to their own income, better education and other services.
While the report is not just focused on the 2 areas DFID has been working on – Female Genital Mutilation/Cutting (FGM/C) and child marriage – it does contain the evidence to show that these harmful social norms are often driven by the very same values and views of women that results in domestic violence. The statistics on the views are quite surprising especially form women themselves – for example an incredible 60% of women in Mali think that a women refusing a have sex with her partner justifies a beating.
It is not all bad news. Things are changing, albeit slowly in some regions. Economic development, rising incomes (especially of women) and increasing urbanisation are changing these attitudes in many regions. For example that same view on wife beating in Mozambique changed a whopping 25% between 2003 and 2011. Sadly however, in Zimbabwe it hardly changed at all. It's also still the case that in 128 countries, laws treat men and women differently—making it impossible, for example, for a woman to independently obtain an ID card, own or use property, access credit, or get a job.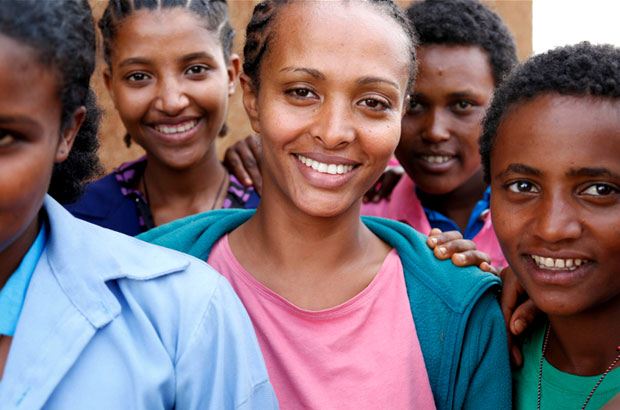 As the brilliantly successful Girl Summit itself demonstrated, new legislation, community organisations, individual champions, the media and targeted programming can change the situation. The latter part of the World Bank's report is literally filled with examples of what works and why change has taken place. Much of DFID's effort at present is to come in behind these efforts and at the same time build up a robust evidence base for the future, particularly around violence against women, child and enforced marriage and FGM/C. For example, take a look at the 'what works' programme on violence against women and girls to see recent research progress.
We can all do better at taking women's voice and agency into account. My personal challenge in the next few months is to make sure that as DFID implements the UK International Gender Act – which means we think about gender equality before providing assistance – teams have the capability and knowledge to also take account women's voice and agency when and where they can.
Keep in touch. Sign up for email updates from this blog or follow Paul on Twitter.