In 1994, a brutal genocide ripped Rwanda apart, robbing people of their families and loved ones. 800,000 people were killed in 100 days, and lives were destroyed. Twenty years later, Rwanda is healing from this tragedy but there's still a lot of work to be done. Around 80% of people are working in agriculture and many are earning around only £1 a day.
I went to see how a project called Uyisenga Ni Imanzai, supported by cash raised for Sport Relief, is improving the lives of young people in the east of the country. The project trains people so that they can set up farming co-operatives producing fruit and vegetables, giving them a good source of income.
Deep in the middle of one of Rwanda's lush valleys I met Dieudonne, 30, who is president of the Imberehera farming co-operative. He was just 10 years old when his family had to flee their hill-top home to escape from a machete wielding gang. His father and 2 older brothers stayed to ward off the attackers, but they were all killed.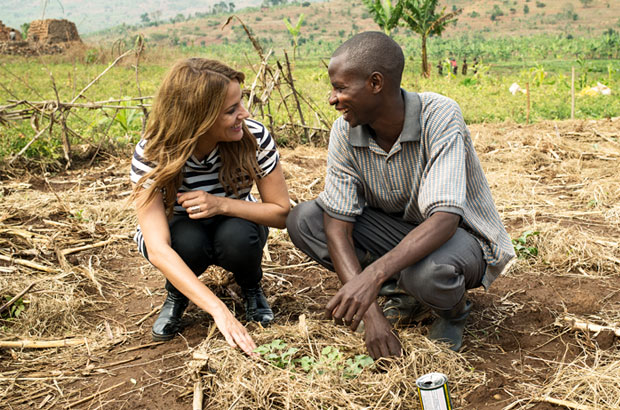 Despite being the youngest at just 10 years old, Dieudonne started working odd jobs to help his mother provide for their family, including his young nieces and nephews. He told me how difficult life was for their family and how he struggled for years with the trauma of losing his father. He found it difficult to concentrate in school, and would often disappear in the middle of the day overwhelmed by grief.
Things changed a few years ago when he came across the project at a local meeting, where they were searching for young land-owners who wanted to learn about agriculture. The project delivered a range of training opportunities and showed Dieudonne how he could improve his income by being part of a farming co-operative.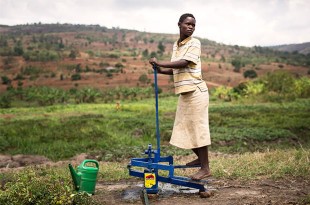 Thanks to cash raised for Sport Relief, that was match funded by the UK government, the project is now helping Dieudonne to work together with other genocide survivors to farm over 3 hectares of land, producing profitable crops like watermelon and tomatoes.
Dieudonne put me straight to work on his farm, collecting up the remaining ripe tomatoes to sell that same day. It's hard work, but there's something immensely satisfying about searching for large juicy tomatoes and popping them into the over-flowing basket.
He told me that 1 large basket of tomatoes can fetch 10,000 RwF (about £10), and 1 field alone can earn 200,000 RwF (about £200). It's also easy to cultivate and quick to grow, meaning that members of the co-operative can rely on a steady income from their crops.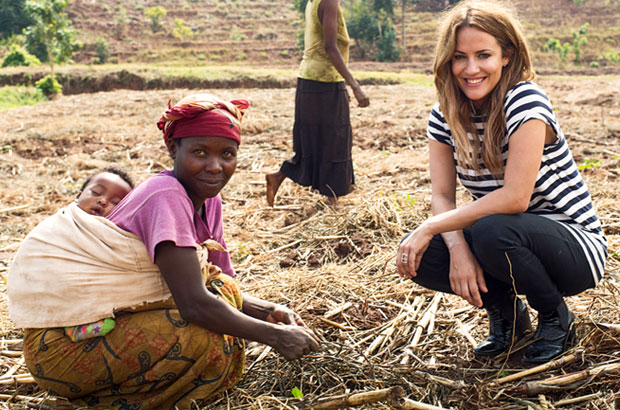 When we went to market to sell the tomatoes, the tomatoes actually sold for 90,000 RwF – that's about £90. The average monthly wage in rural Rwanda is around £30, so this was a very successful trip to the market for the cooperative. Thanks to the training from the project, Dieudonne and his fellow participants are reaping the benefits of their business negotiations and professional cultivating skills.
Dieudonne explained to me that being president of a co-operative marks the beginning of a new journey. He no longer has to agonise about money or food. He has even hired farm-hands to work the land daily, giving more people a chance to earn a good living.
This fantastic young man is a testament to how your money is already hard at work creating long-lasting sustainable change by building business, creating jobs and increasing trade across the country.
I can see how such an investment into education and learning has transformed Dieudonne's life and for thousands more people like him.
Caroline Flack is a well-known TV presenter having fronted series including Xtra Factor, I'm A Celebrity Get Me Out Of Here Now and Gladiators.  This autumn sees her joining the cast of Strictly Come Dancing on BBC One.
———————————————————————————————
Please note, this is a guest blog. Views expressed here do not necessarily represent the views of DFID or have the support of the British government.
Keep in touch. Sign up for email updates from this blog.