Though it may not seem obvious, access to clean energy and women's empowerment especially in the developing world are intrinsically linked.
Collecting firewood, for example, can make a woman or girl vulnerable to attack while she's outside her village searching. Time spent collecting firewood is time spent away from education, time away from an economic activity. And a lack of access to energy can mean no lights at home or in her village to give her a sense of security. All women everywhere of course know that creeping sense of danger walking down a dark street or path alone.
And during my visit to Bangladesh earlier this week, I saw first-hand what a difference clean energy can make to a woman's life. I was there in my role as the UK's ministerial champion for tackling violence against women and girls overseas, and it was the third leg of my violence against women and girls awareness-raising mission around the world, after the United Arab Emirates and Somalia.
On Tuesday I travelled to a small village in Manikganj District outside Dhaka to see an installed Solar Home System – one of the fastest growing and most successful off-grid renewable energy programmes in the world – and meet women who have benefitted from the project.
For Ranu, a widow and seamstress, the solar panels installed on her roof and the electricity they generate allow her to work after dark, increasing her productivity, income and self-sufficiency. The light she now has outside her house, illuminating the route to the pit latrine, has vastly increased her sense of security. The monthly cost of the solar panels is equivalent to what she'd normally pay for kerosene, and clearly this clean energy alternative is much better for her health. Win-win-win!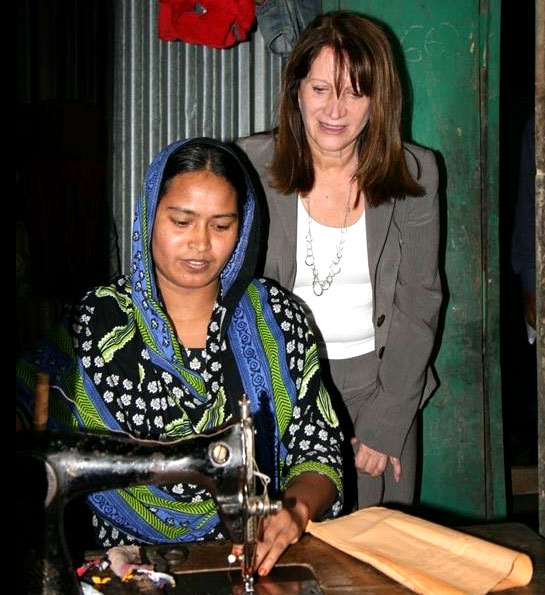 Less than 60% of Bangladeshis have access to grid electricity and in rural areas it's only 40%. At the household level, the lack of access to modern energy is one of the main reasons for poverty and low economic development. And when it gets dark as early as 17.30, as it does this time of year in Bangladesh, it's easy to understand why electricity is so important to family life.
That's why DFID's Clean Energy Programme, worth £20 million between 2013 and 2017, is providing access to clean, solar energy to more than 5 million people in poor, rural communities. The programme supports the Infrastructure Development Company Limited, a semi-commercial enterprise, to provide subsidies to poor households to purchase Solar Home Systems and other solar technology.
The feedback we've had from users of the Solar Home System in Bangladesh is excellent. Thanks to this power system, there is a 67% increase in time that can be used for studying, and 87% of women in female-headed households reported their sense of security at night is higher. And better yet, more than 1,000 women technicians have been trained to assemble Solar Home Systems and provide sales service.
More than 3 million rural households are already powered by solar energy in Bangladesh. And to me, there couldn't be a better example of why clean energy access is so crucial and effective at improving the life chances of the poorest women and girls.
Sign up for email updates from this blog, or follow Lynne on Twitter.