I'm pleased to announce that a new email subscription service is now live on the international development funder finder. If you register your email address, you can receive alerts in your inbox to tell you about new funds or funding rounds that are opening or closing.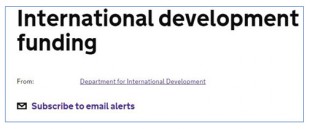 Since we launched the funding finder in August 2014, there have been around 50,000 visits to the funding pages each month, twice as many as previously. The most visited funds are UK Aid Direct, UK Aid Match and Global Innovation Fund.
The next step that we hope to introduce is to customise the email alerts. This would mean subscribers could select the sectors they are interested in so that they receive alerts only for their chosen sectors.
We appreciate the feedback you've sent us, which we've passed on to the Government Digital Service. They have built the new email subscription service to better meet users' needs. If you have further comments, please write them below or use the feedback button at the foot of GOV.UK pages to contact us with your views.
Keep in touch. Sign up for email updates from this blog, or follow Frances on Twitter.