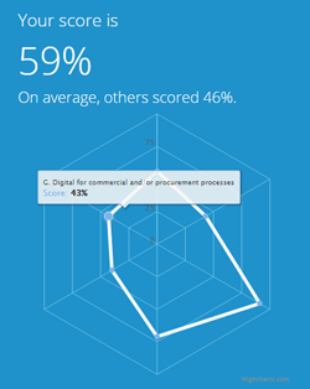 I'm Joseph Pakenham and I'm the Digital Advisor at DFID. This means I'm a huge advocate of anything digital (so long as it works), especially connected to international development. I'll be blogging about my work as part of DFID's Digital Team, increasing digital capability in the department and highlighting great uses of technology in our programmes.
In order to meet the 4 over-arching objectives set out in our Digital Strategy (delivering better results, making DFID easier to do business with, being open and engaging; and building staff capability) we really needed to understand and baseline our employees' digital knowledge and skills. We therefore initiated a project in mid-2014 to find out about and target user needs in this area by building a digital self-assessment tool.
We spoke with a wide range of staff to gather user needs and to frame the questions for the digital self-assessment tool. Work on building the Quiz began in earnest in September 2014, after having selected a supplier from the Digital Marketplace.
It was important for us that what we created could be reused by any organisation, for as low a cost as possible. That's why we decided to use WordPress as the underlying technology for the Quiz, building our own plugins that would work with the proprietary (but low cost) WatuPro quiz engine.
It was also essential for the Quiz to provide tailored feedback to individuals, based on their score and grade in each of 6 digital categories that are most important to DFID. This takes the form of an overall score, a spider diagram and an email with feedback and links to online resources to help staff develop new skills.
I managed the development of the Quiz using Trello, a free project management tool that we use widely within DFID to support our agile development methods. It's a really good way of visualising work and prioritising requirements (and just perfect if your team is based in different locations).
After several iterations of the Quiz, which included the refinement of our questions, results and the user experience, we were ready to go live with our Beta for staff. We launched it in November 2014, and so far we've had almost a third of DFID staff completing it. As this was the first time running the Quiz, there's not much to compare the results with, but we've had a wide range of results. In particular, we asked what the term 'digital' meant to staff and had a variety of interesting responses; from the binary "digital is zeros and ones" to the more useful "using new technology to work better together, increasing efficiency and improving innovation". As the Quiz offers tailored feedback and practical steps to improve, I've every confidence that the next time people take it they will beat their previous score!
This is a really encouraging start, and we've already started making small improvements to it, based on user feedback.
Sharing the Quiz
If you want to adapt the Quiz for use in your organisation, just visit our GitHub repository and follow the steps in the 'readme' to get started. You'll need a decent understanding of WordPress and an instance of WordPress 4.0 or later installed somewhere (we used a cloud service) – as well as a relatively cheap licence for WatuPro.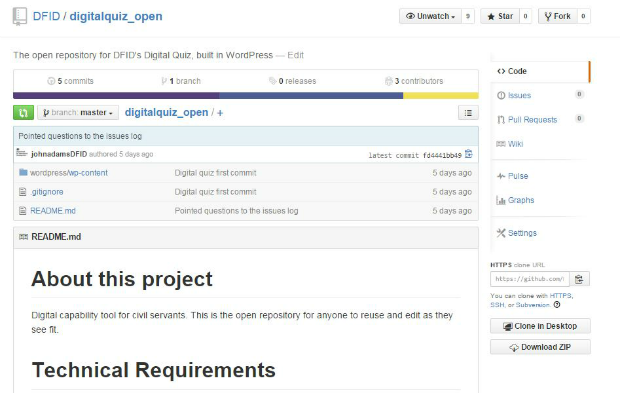 If you decide to implement your own version of our Quiz, please contribute any improvements you make to the code back into GitHub. Please do share how you get on with improving digital skills in your organisation.
Keep in touch. Sign up for email updates from this blog, or follow @JosephPakenham on Twitter.