I had a moment of dizzying clarity during a visit to The Gambia last month, when policy lines revisited in briefings, meetings and documents burst back into life, regained their power and gave a renewed sense of purpose to my day-to-day work at DFID.
As a Gender Policy Adviser, I focus on Female Genital Mutilation (FGM) and Child, Early and Forced Marriage (CEFM). Part of my job is to oversee DFID's contributions to 2 global programmes, which aim to bring an end to these practices in 25 of the worst affected countries.
This is a fascinating job and one I feel privileged to do, but the multi-country nature of these programmes necessarily means that I often spend my days sitting behind my computer thinking about these issues from 35,000 feet. The days when I have the chance to sit one foot away from the impact DFID's work is having – as I did last month - remain precious and enlightening.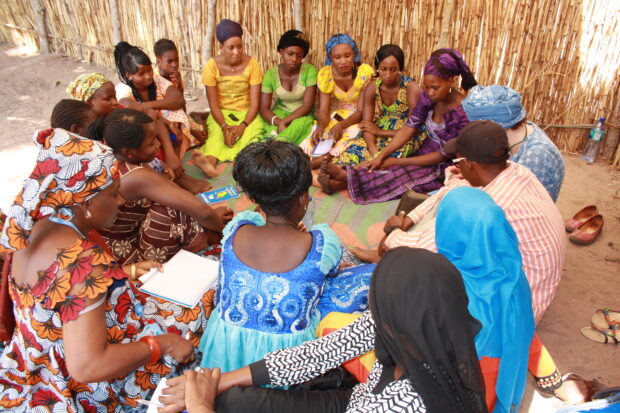 In February, I visited Sotoma Samba Koi, a community in The Gambia taking part in Tostan's community empowerment programme. The project is supported by a DFID-funded UN programme as part of our £35m flagship programme to end FGM. In Sotomo Samba Koi, girls are cut in the first week of their life. FGM is undertaken for a range of reasons associated with becoming a 'proper' woman and ideas relating to women's purity, virginity and fidelity. In affected countries, FGM has long been considered essential for marriage; uncut women have traditionally been ostracised.
In Sotoma Samba Koi though, this is changing. Oumou - pictured below with her mother and her 18-month-old daughter, Maimuna - is the mother making this change happen. She is the first mother in her community to have chosen not to cut her daughter. Sitting alongside the mother who chose to cut her as a baby, and who was herself cut, she has chosen a different future for her daughter.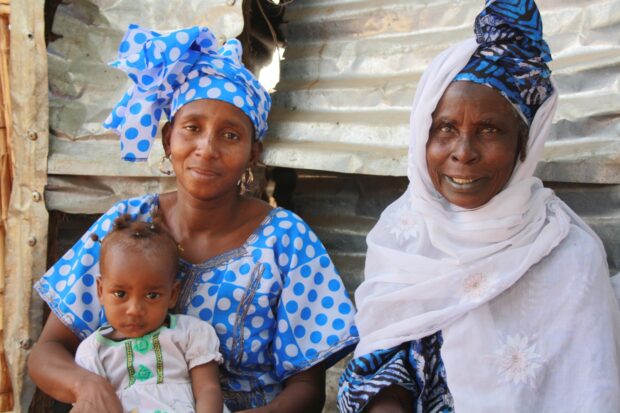 At the Girl Summit last year, the Prime Minister talked about the opportunity the world had to "end FGM in a generation". In The Gambia, last month, I saw 3 members of the same family doing just that.
My second 'EUREKA!' moment was at the Banjul office of Think Young Women, a youth group made up of girls (and boys – calling themselves 'we-men') who set up to raise awareness about gender-based violence, including FGM, promoting the rights of girls and women and helping them to become future leaders in The Gambia.
Think Young Women receive funds through The Girl Generation which was established by DFID to support a global movement to end FGM. They're using scarce resource wisely by setting up school groups, organising mentoring events and supporting the work of other national, regional and global organisations. Crucially, they've got boys and men involved which is critical to their goal of creating meaningful social change for girls. The idea is that by bringing together the many voices now speaking out against FGM, the message will be powerful enough to drive social and behavioural change. And ultimately this change will lead to a shift in attitudes about girls and women and their value to society.
Whilst I was with Think Young Women, I met Musu Bakoto Sawo from Kanifing Layout, Banjul, who is part of Think Young Women's Executive Board.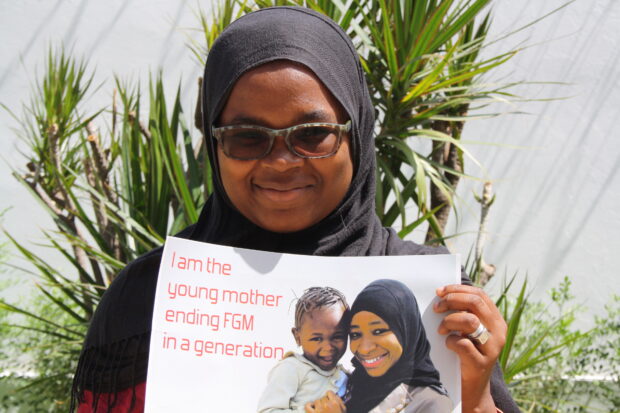 Musu was cut as a child, married at 14 and has a young daughter. Aware of her rights, she fought hard to continue with her education, balancing school and studies with her new responsibilities as a wife and a mother. Musu was fortunate that her husband supported her in her determination to finish school; with this support and a striking sense of personal resolve, Musu applied for and won a scholarship to complete an LLM in Human Rights and Democratisation in Africa at the University of Pretoria – only the third Gambian ever to win the scholarship.
Musu, now 25 and widowed,  volunteers her time as part of Think Young Women's leadership team. Think Young Women say that they are "run for, and by, young women aiming to bring about a new generation of enlightened young female leaders".  Musu is one of them. In the face of considerable adversity - which is perhaps most startling because it is so normal - Musu has fought for and achieved a solid, hopeful future for herself and her daughter and now she's committing her own time to help other Gambian girls do the same. In words that cut through even the most incisive policy rhetoric, Musu explained that she wants all girls to know that "they can change their own story".
So this is what we are talking about when we say we are 'empowering girls'. This is what we mean when we say we are supporting an 'Africa led movement for change'. This is why we say that 'girls are not victims but are active agents of change'. EUREKA.
Happy Mother's Day Musu and Oumou – you are the mothers ending FGM in a generation.