So many of the ways in which women and girls around the world must live their lives are simply taken for granted, never given a second thought.
We all know that domestic tasks fall disproportionately on women. That is as true in the UK as it is in a rural African village or a Darfuri refugee camp.
We also know that round the world there is energy poverty - people do not have the basic energy needs for their daily lives. But do we realise how this disproportionately affects women and girls?
In this crucial year, when the international community will agree a new set of Sustainable Development Goals and a climate deal will be reached in Paris, maybe we should think harder.
An estimated 1.3 billion people worldwide have no access to electricity, and 2.8 billion rely on solid fuels for cooking and heating. And it is girls and women who bear the brunt of this energy poverty.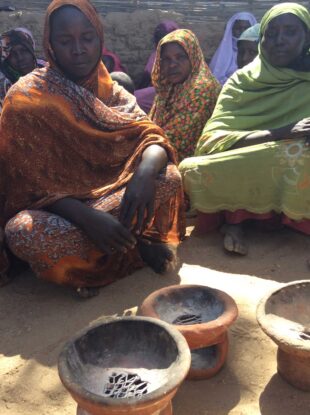 They are the ones who are most exposed to the health impacts of household air pollution from cooking with dirty and inefficient fuels. They are the ones who are most often put in danger of attack, as they collect firewood for their family's needs.
They are the ones whose educational or economic opportunities are limited by the time spent walking great distances to fetch and carry water, which could be pumped. They are the ones who are forced to give birth in the dark or by candlelight because the health clinics they rely on have no electricity.
And yet, with increased effort, most of these problems can be addressed. This can be done simply by increasing and improving access to electricity and clean cooking fuels and appliances.
That's why DFID has pushed for increased, co-ordinated action to address the impact of a lack of access to clean energy on women's and girls' health, safety, economic opportunities and domestic workloads. We are working hard to support the specific needs of women and girls, and recognise them as leaders and innovators in developing solutions that meet those needs.
One example is the Greenway Clean Cookstove company in India. Headed by a young Indian female engineer and entrepreneur, it is leading the way in providing affordable, efficient cookstoves specifically designed to meet the needs and aspirations of local women. The company won last year's Ashden Award for Clean Energy, Women and Girls – supported by DFID. It has also been a recipient of the Alliance's Spark Fund, supporting the growth of new clean cookstove businesses.
Last week, at the Commission on the Status of Women in New York, I spoke at an event hosted by the Global Alliance for Clean Cookstoves, ENERGIA and the International Centre for Research on Women on the links between energy access and gender equality. All three organisations are leading innovative and ground-breaking work to promote access to clean energy for women and girls.
Last November at the Alliance's Clean Cooking Summit in New York, I announced £31 million of new UK support to the clean cooking sector. Part of our support will focus on demand and behaviour change to encourage the uptake and sustained use of clean cookstoves and fuels.  More than one million households will adopt clean cookstoves by 2017 as a result of the UK's investment. This will save 2,800 lives and over 100 million hours of time every year that would have been spent collecting firewood – time freed for the pursuit of other activities, including of course, educational or economic ones.
Working closely with partners through the Sustainable Energy for All initiative, we are also supporting green mini-grids as an important way for people in remote communities to access clean and reliable energy. With advances in technology and cost reductions, these small electrical distribution networks are often the best route to expanding energy access to a large proportion of homes and businesses in remote areas. They reduce dependence on costly fuels such as diesel and kerosene – products that also affect people's health when used in the home for cooking, lighting and heating.
The World Health Organisation estimates that 58% of health care facilities in sub-Saharan Africa are without electricity. This has direct impacts on maternal health, safe births and care for newborns. To respond to this, DFID will soon start a programme with the UN Foundation, focused on the sustainable electrification of health clinics in at least three sub-Saharan African countries.
2015 is a critical year for international development, for gender equality, for girls' and women's rights, and for addressing  climate change. It is an ideal time to make the links between sustainable energy and gender, and to prioritise clean energy access which we know will have particularly strong benefits for women and girls.
We need our eyes wide open when we look at the lives of women and girls, and ensuring that we address the realities of those lives, and seek to improve and transform them is surely what development is all about. And whether it is a little boy or little girl in the future who is expected to assist a parent in cooking, then ensuring that they are in a healthy environment as they do that should be an absolutely vital starting assumption.
Sign up for email updates from this blog, or follow Lindsay on Twitter.