Many girls' and women's faces in Mozambique will stay with me. But 3 of those faces had a particularly strong impact – those of Isalinha, Ana, and especially a young mother in Manica province, whose name I may never know.
Let us take that young woman first. She sat on the ground, surrounded by other young women and their children in a village, as women community leaders acted out short plays on good nutrition and family planning for us. She did not engage. She barely watched, gazing somewhere into the distance, no smile on her face. She looked perhaps 20, perhaps younger. Attached to her were twins, feeding constantly, each baby detaching himself and crying, as her milk clearly ran out, then reattaching in hope. One twin was dominant, and he would swipe from time to time at his sibling, trying to knock him off the other breast. The mother, stick thin, barely seemed to notice that either. All her waking and sleeping hours she would no doubt be feeding these twins. She may well have had other young children, as many were playing near her. She may well already be pregnant again, as most seemed to be. Weariness emanated from every pore of her body. She knew there was no easy end to this.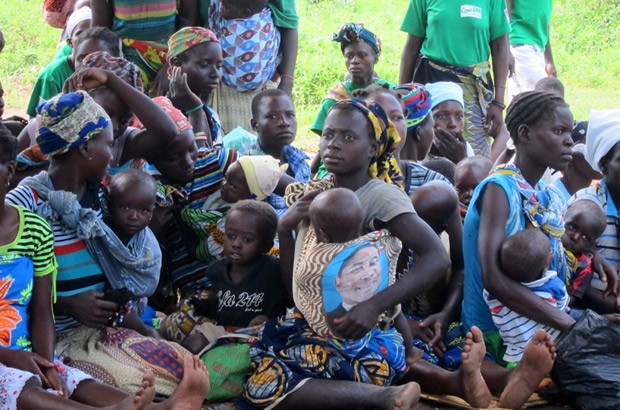 The men behind her giggled as we heard about how young girls were married off young, but when their babies arrived, their husbands then moved off to take other wives as the first wife was then too "busy" looking after small children, the household, as well as the fields.
Family planning is taken up by only 12.5% in Mozambique, and 43% of children under 5 are malnourished.
That was the reality for that young woman's life, and it is not surprising that it was too much effort to raise her eyes to us, or anyone. It was especially to her, as well as those around her, that I said that life will change, as I am certain it will. And which is why we engage as we do. But she seemed not to hear, or register.
But as a human indicator of change, let me now turn to Isalinha. In the Radio Mozambique studio in Tete City, I was grilled by fifteen-year-old Isalinha Alfredo. She is a youth journalist, helping to present a UNICEF-supported award-winning radio programme with other young people. They tackle the issue of child, early and forced marriage head on, as well as other challenges facing adolescent girls in Mozambique, including through a popular soap opera. Isalinha wanted to know if child marriage was a problem in the UK and if so, what we did about it.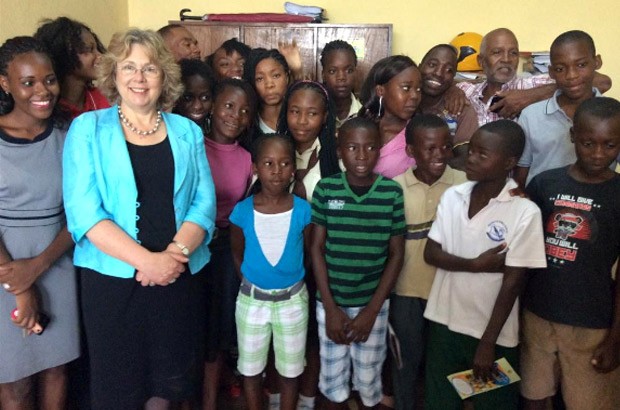 Mozambique has the eleventh highest rate of child, early and forced marriage in the world. Approximately 1 in 3 girls is married before she is 18 years old; 12% are married before they are 15. Recent data show marked 'hot spots', with the highest rates of teenage marriage found in the northern provinces of the country, furthest from the capital, Maputo, so possibly in the south we can see indications of change.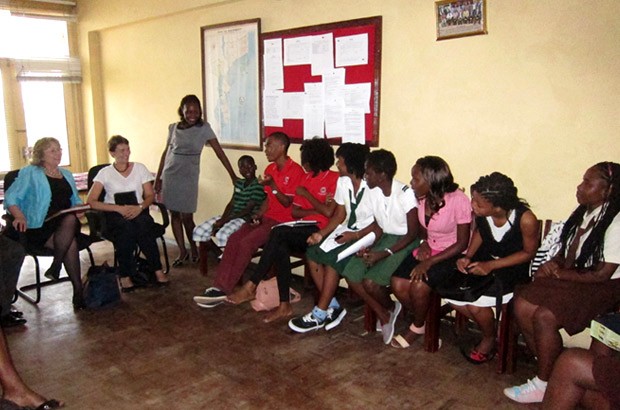 Isalinha and the other young people involved with Radio Mozambique were frank about the causes of child marriage. In their experience, early marriage was overwhelmingly driven by poverty, with families marrying off their daughters so they had one less mouth to feed, or to settle outstanding debts. One boy mentioned a girl exchanged for a set of cutlery. They surprised me by saying that families wanted lots of girls so that they had the prospect of earning something through their later exchange in marriage. My mind went to India, and girls again as commodities there, but this time as a cost, and all the terrible consequences of that.
I only needed to think of the unnamed woman in her village with her twins, to see the lack of women's empowerment. And this is of course a crucial factor driving child marriage. Empowering young women, as in Isalinha's case, to speak about it publicly, is vital. And that is why UNICEF's work to tackle child marriage focuses on advocacy, community radio stations and working with religious and community leaders.
Encouragingly, the government of Mozambique is now drafting its first ever National Strategy for Combatting Child, Early and Forced Marriage. The strategy is due to be approved in April 2015. DFID funding will not only support UNICEF to scale up their work but it will also help the government deliver that strategy. I note with great delight that their neighbour, Malawi, has just enshrined a law which protects girls against child marriage – setting the marriage age as no lower than 18. The next step, difficult but vital, is implementation, and the protection of girls.
It will not be easy to end child, early and forced marriage; it will require economic and social transformation. But the enthusiasm of these young people, and their determination to speak out on this issue, made me feel that Mozambique is heading in the right direction. Isalinha, inspired by her experience at Radio Mozambique, wishes to become a journalist or a doctor so she can continue to contribute to her society.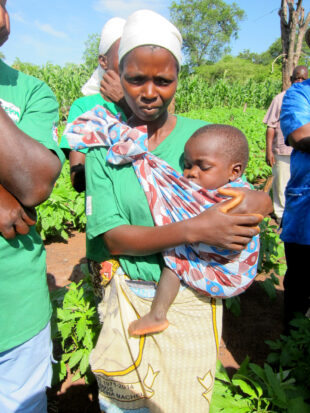 To achieve her ambition, Isalinha faces many barriers. Mozambican women are more economically excluded and worse educated than their male counterparts. Educational attainment levels for both sexes are extremely poor, but dramatically so for girls. Literacy rates are lower among women and girls (33% compared to 63% of men). 65% of girls drop out of primary school, and only 1 in 5 girls completes secondary school.
And Mozambique is witnessing a feminisation of poverty, with increasing numbers of female-headed households, which means they are disproportionately prevalent among the poorest 20% of Mozambican families. Additionally, women's economic participation is limited: only 11% of women are part of the non-agricultural paid labour force.
It was at the Stefanutti Stocks Construction School in Zimpeto, Maputo, that I met the third of my trilogy of women, Ana. Everything about Ana shows her determination to battle against the odds. Ana Quitela's mother died when she was a very small child. She had to help look after her family by working and caring for her siblings. But with the support of her father, she also studied, and did so well that she was accepted to study civil engineering at Mozambique's leading university, Eduardo Mondlane (UEM). Two years ago, Ana was chosen as one of 7 candidates for Stefanutti Stocks' first graduate training programme. Ana excelled and graduated top of her class as a junior engineer. Stefanutti then appointed Ana to run their block and concrete yard in Zimpeto. And so I met this young female engineer, in charge of others older than herself, mostly men, a challenge that in the UK would seem formidable enough, but to have done that having suffered the loss that she did, with all her consequent responsibilities, simply took my breath away. She herself is now married, and I have to hope that all around her will allow her to continue her stellar career.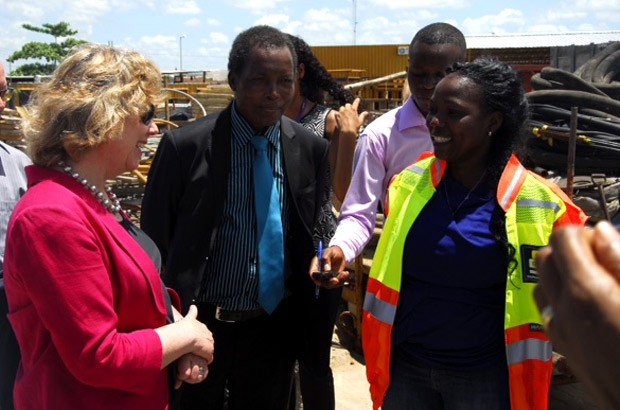 Ana's story may be an exception, but it needs to be the first of many. At the Stefanutti Stocks Construction School, I was therefore delighted to announce DFID's new Skills for Employment (S4E) and Ligada Programmes. Skills for Employment will provide £17 million over 6 years to deliver good quality skills training combined with employment services to help a minimum of 5,000 young people like Ana get a job. The Ligada Economic Empowerment Programme will provide £14 million also over six years to support initiatives for women's recruitment and retention in formal work, and to improve opportunities, incomes and access to markets for women in the informal urban economy. It will also address the issue of violence against women and girls and social norms in urban areas, drawing attention to issues such as sexual harassment in the work place.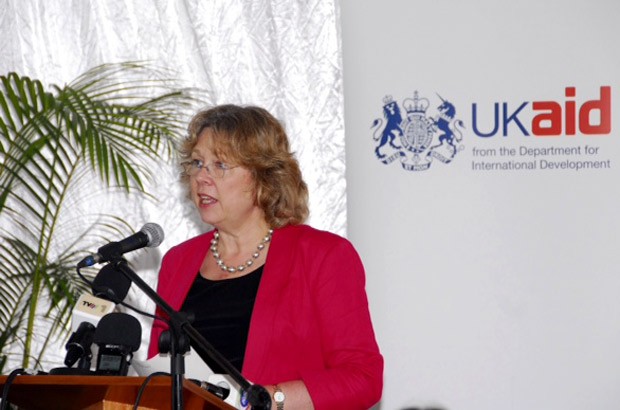 It is vital that, as Mozambique's economy continues to grow, and with the resources coming on stream, that it does so in a way that benefits the whole of society, especially women, whose desperate need was so apparent to me. DFID projects such as S4E and Ligada are designed to help Mozambique rise to this challenge. It is through young people like Isalinha speaking out, and women like Ana pursuing outstandingly skilled careers, that inclusive growth can enable women to be valued for themselves, rather than as a commodity to be married off for financial reasons or to settle debts. And that is an environment which is conducive to ending child, early and forced marriage.
Eventually, I hope that some of this will indeed touch the mother of twins whom I saw in the Manica village, and that if she has daughters, those daughters will have a brighter future than the one she bleakly sees in front of her now.
Sign up for email updates from this blog, or follow Lindsay on Twitter.