Time to draw breath after a week full of events aimed at sharing ideas and prompting discussions about what digital means for our work.
This was the third time we have run such an event and the programme was designed taking account of our experiences with the previous 2 events.
This year we structured the programme around the themes identified in our Review of Digital in DFID programmes. This meant looking at the challenges of access, collaboration for effective delivery, and exploring implementation according to the principles for digital development.
A team with volunteers from our graduate programme compiled the programme for the week which included the following:
opportunities to hear from some leading speakers,
sessions where people got close up to actual digital projects and could quiz the implementers about the detail,
practical training sessions on tools which would potentially make their work more effective, such as trello, prezi and yammer, and
the chance to experience some truly innovative film-making: the virtual reality film made by a team at the UN: Clouds over Sidra
Highlights for me included hearing from the team at Souktel how their initial work on the Somali Youth Livelihoods Programme is now a business, run by Somalis and moving from a model of purely free content, to one where people are prepared to pay. And hearing about the potential of the new Orb health platform which they hope could become the Amazon for health workers – a source of trusted content designed with their needs in mind.
The debate between Sonia Jorge (Alliance for Affordable Internet), Claire Sibthorpe (GSMA Connected Women) and Chris Locke (Caribou Digital) about the benefits that come when women have access to the internet was an excellent start, but unfortunately we ran out of time just as we got to the really meaty questions. Perhaps that is a sign of a truly hot topic, and an indication that we need to follow up and dig more into the issues and opportunities.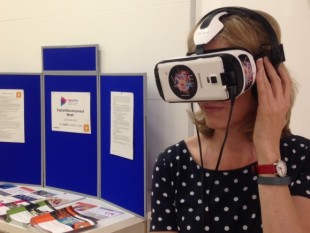 And finally the chance to experience virtual reality via the award winning film 'Clouds over Sidra' – which tells of life in the Za'atari Syrian refugee camp in Jordan from the perspective of a young girl. We were loaned a headset and headphones, which enabled people to be completely immersed in watching the film. It was wonderful to see how many colleagues reacted to the experience, immediately thinking of ways that this could support us in telling the stories of our work, but recognising that it is a complex thing to produce, and not easy to get right.  Gabo Arora, director of the film, has blogged about what they aimed to achieve: http://blog.myworld2015.org/virtualreality/
Also part of the week was a full day session looking at social media, which included fascinating presentations from a team from the Social Data Science Lab at Cardiff university, an insight into network analysis, the ethical challenges of social media research and a couple of case studies which illustrated specifics for DFID. The first of those was on different ways that social media analysis could have been used to support the response to the Nepal earthquake and the second gave some early findings from a piece of work Demos have done analysing social media data around the elections in Nigeria.
Our final challenge is to make sure that the energy and momentum generated during this week doesn't dissipate, so we finished by setting people the challenge of making a promise to followup. We are using a combination of yammer and cards pinned to a board to enable people to share their commitment to build on something they learned during the week, whether it be to gain more experience of a particular tool, learn more about a digital programme or encourage their colleagues to join them on yammer. We also don't want to leave it until next year before we invite more partners who are working with us to deliver innovative digital programmes to share their work, and look forward to a series of showcase sessions throughout the year.
Keep in touch. Sign up for email updates from this blog, or follow Julia on Twitter.