Throughout the six years I have worked in DFID I have always wanted to work in one of our offices based in a developing country. Living overseas, close to the 'front line' of delivering aid has to be the top job. Now that dream is a reality as I have been lucky enough to get myself a ticket to one of the plum postings - DFID Tanzania. Being one of DFID's top recipients of aid Tanzania is a very poor country with lots of interesting challenges. Already many benefits of aid have been realised such as the scrapping of school fees in 2001, which led to four million more children being able to enrol in school. On top of this I am going to be living in the pleasant seaside city of Dar Es Salaam (Haven of Peace), with safaris and beaches within easy reach.
However, in my first week I feel like a fresher starting university. How come I wish my parents were a bit nearer and that my friends from home could all come with me? Will I fit in? Will anyone like me?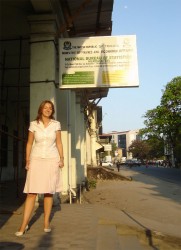 It's a bit like starting any new job I guess. There is a lot to learn and you desperately hope to make a good impression. In this case I also have to learn a new culture, a new language (Kiswahili), and a lot of very unusual (to me) names. It's truly a whole new life, with a new flat in a new city in a new climate. At the moment it's a pleasant sunny 28 degrees, but this is the coolest time of year. Apparently it gets very hot and wet, and the mosquitoes are already biting. I need to make new friends and learn what there is to do in my spare time. I must adapt to a new style of working where meetings start at 7.30am and so on, with all the challenges that brings.
Currently, I am a little bit overwhelmed and exhausted, but I still think I have got the top job and I can't wait to settle in.