Ethiopian folklore has it that coffee was discovered in Ethiopia.  A goatherd liked the taste and the feeling that followed when he plucked and ate some berries from what we now know as a coffee tree.
Coincidentally, I have a coffee tree in my front garden in Addis Ababa.  Not much to look at, particularly since my four-year-old son climbed it and plucked all the coffee beans (you might be able to spot them on the desk next to my arm in the photo).  Dried, roasted and ground, I might be able to make about one cup of coffee every few months.
Why am I writing about coffee?  Because it is one of Ethiopia's most important exports.  Some sources claim that as many as 12 million Ethiopians depend on coffee for a living.  Whatever the precise number, coffee is unquestionably an important livelihood for many Ethiopians.  Perhaps you're reading this while you sip a cup of coffee made with Ethiopian coffee beans - I'm certainly sipping away on a tasty Americano as I write.  And more than just a livelihood for many Ethiopians, coffee is a way of life, with the traditional 'coffee ceremony' central to Ethiopian family life and culture.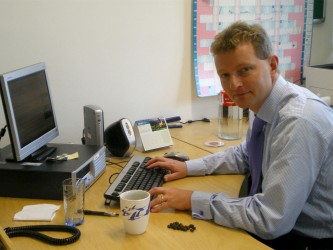 And roses?  Another important export from Ethiopia.  Some people worry about the environmental impact of buying flowers flown in from Ethiopia or elsewhere in the developing world - the so-called 'food miles' dilemma.  Should we buy African flowers to support poor farmers or boycott them because of the environmental damage that growing and exporting them might cause?  See a thought-provoking paper on food miles here.
What's your view?