I have just got in after a training course into the weird and wonderful ways and workings of the 'Development Partnership Group' (DPG). The purpose of the DPG, and its many underlying sector and cluster working groups, is to manage the official development assistance (aid) coming into Tanzania, in a way that is joined up and in line with the country's own plans.
As a new 'partner', it is important that I and the others who have arrived over the last year get our heads around the structures in place to make sure we support them effectively.
Today we have learned 117 different acronyms, including the all important MKUKUTA (the national development strategy).  We have learned about working groups, sectors and clusters; lead partners, active partners and delegated partners; and monitoring systems, targets and indicators. These are the basics that a newby like me needs to know before engaging with the system itself to be able to make a difference.
On a theoretical level, to the uninitiated this can all look a bit like bureaucracy gone mad, but there is a clear purpose to it. At the recent High Level Forum on Aid Effectiveness in Accra, the government and donors of Tanzania won an accolade for this system and its impact on the effectiveness of the aid. And there is a lot of this aid - around 2 billion dollars a year, around a third of the national budget. The idea of this prize winning system is that the aid is used to deliver the government's own plans for development, and transaction costs are reduced.
The example we were given was the water sector, where once some 15 donors all had their own water projects, all offering advice and finances to the government separately, each having their own monitoring systems to keep a check on where their pound, dollar or euro goes to, with different piles of paper work for the government to complete.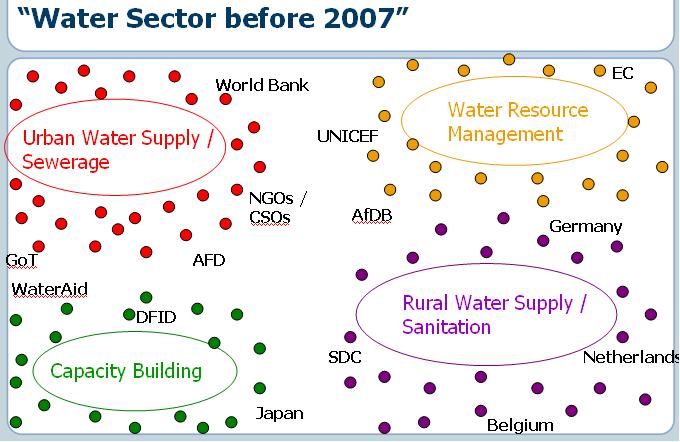 Now, instead there is one agreed plan for the water sector, and donors support this plan. This is similar to the way forwards for my work with the National Bureau of Statistics (NBS - one of the afore-mentioned acronyms!). Previously donors funded censuses and surveys in areas they were interested in, leaving other areas underfunded - now the NBS has led the production of a plan for the government statistics services in Tanzania and Zanzibar, and we will pool funds with other donors to implement this plan, to improve the data available in a more systematic way.
The day was of course also a great opportunity to meet lots of other new people who have recently arrived in Dar and who will be useful contacts both in work and out.