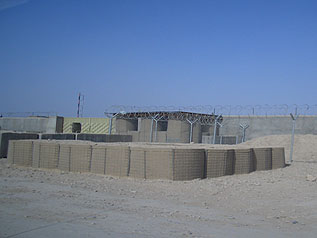 I live on a military base in a very dusty part of the world, where temperatures top 50 degrees in the summer.  We've not seen much rain since I first came here in early June.
A number of UK troops live on the base, along with UK, US, Danish and Estonian civilians and a few US and Danish troops.  3 Commando Brigade have recently arrived to replace 16 Air Assault Brigade; each brigade is here for a six-month tour.
While the number and proportion of civilian women is growing, women remain in the minority on camp.  We have a lot of Afghan colleagues on the base during the day, and of course beyond the camp it's a very conservative part of the world, so I wear thigh-length, long-sleeved, high-necked tops at all times and a headscarf whenever I'm out and about.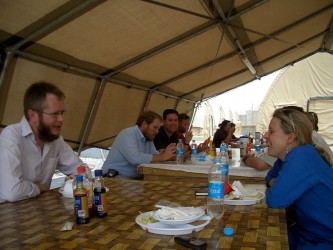 I live in a 'pod', which is essentially a shipping container made into a little bedroom and bathroom.  I eat in the military galley - the food's pretty good for a strapping Royal Marine Commando, but there are an awful lot of carbs, meat and desserts for someone trying not to pile on the pounds...
There's not much to do to distract you from work here other than exercise, which for me involves running round and round the helipad most days.  I ran 10km the other day for the first time in my life, and then did it again yesterday.  For anyone who knows me well, that says a lot about the limited options there are for things to do here.
Other than running, there's a gym, an outdoor screen for watching films, a small shop and a couple of lounges with British Forces TV, DVD players and board games, and that's about the size of it.
So I sleep, eat, work, eat, work, run, work, eat, work and watch TV, then round it goes again.  It's a simple and quite repetitive life, and my daily activities become so routine that it's hard to know what's interesting to the average person living a more normal life.
But there are some things that, however frequently they happen, I'll never be able to get used to - and those will be the more sobering subject of my next post.