On this World AIDS Day, I want to turn attention to the crucial role of donor funding in the fight against HIV/AIDS.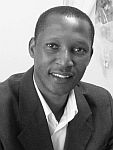 In a previous post, I mentioned the pleasures of working in Mozambique including working with very committed people in Government. Diogo Milagre is one of those individuals. Diogo is the Deputy Executive Secretary of the National AIDS Council which coordinates the national response to HIV/AIDS. I meet him occasionally in a meeting known as the CCM (Country Coordination Mechanism), which brings together government, development agencies and civil society to help coordinate the national response to the epidemic - he has a commanding presence and is a very effective speaker.
In a recent interview with Oxfam America he questions whether donors listen to government priorities. His focus in the article is on PEPFAR, the US President's initiative to tackle HIV/AIDS - which was established as an emergency response to the epidemic. PEPFAR has provided massive funding for HIV/AIDS and is, in Africa, considered an important legacy of President Bush's administration. However, channelling such large amounts of funding (over $200 million per year to Mozambique) has inevitably meant that the funds have sometimes set the pace and determined national priorities rather than always responding directly to them.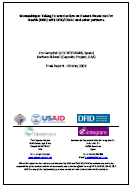 However, this is changing and the situation in Mozambique demonstrates that there is huge flexibility in PEPFAR funding. A recent collaboration between DFID  and PEPFAR (I attach the PDF report - a bit long at 53 pages but of interest to the enthusiast!) has helped identify that the significant funds being mobilised are contributing substantially to capacity building. PEPFAR funds in Mozambique have been used to support the strengthening of the health system and to help train, maintain and retain the health workforce.
There is a strong commitment on behalf of both the UK and US Governments to support the strengthening of the health workforce. In Washington in April President Bush talked of:
"...our joint desire to train health care workers in Ethiopia, Kenya, Mozambique and Zambia, as well as our continued effort to confront disease, whether it be malaria and HIV/AIDS"
and Prime Minister Brown:
"...to increase the number of doctors, nurses and midwives in Ethiopia, Kenya, Mozambique and Zambia, a downpayment which if extended to the whole of Africa would lead to 1.5 million more health service, health care workers".
This joint statement was echoed in the commitments made at the UN High Level Summit on the MDGs, held in New York in September 2008, where Gordon Brown spoke passionately about the need to redouble our efforts to reach the MDGs. What DFID and the US Government now hope to achieve in Mozambique is a translation of these commitments into coordinated support to help Mozambique scale up its health workforce and strengthen its health system to reach the MDGs, in a way which responds to nationally defined priorities. So, I think the criticism of not always responding to national priorities has been recognised, and considerable efforts are now being made to ensure that future support backs national plans.