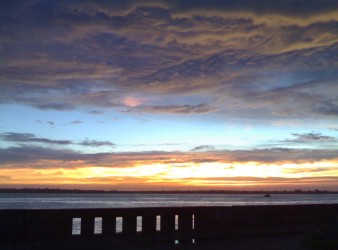 Well, the sun has set on 2008, and what a beautiful sunset it was. My friend Marie took this picture on the 29th December from the Marginal Road overlooking Maputo Bay. I think it really captures some of the magic of living here in Maputo.
There is much to inspire a person in Mozambique, from its glorious coast line, spectacular sunsets, friendly people and, in spite of the economic climate, growing economy. This helps build hope that the considerable challenges the country faces in terms of continuing high levels of poverty, a national HIV prevalence of 16%, and a shortage of skilled and trained health workers can, with sufficient political will, and international support, be overcome.
2008 was a hopeful year for Mozambique. Real progress has been made strengthening the health system and planning and estimating the costs of scaling up the health workforce. A clear strategy for the prevention of HIV transmission has been developed. I am looking forward to 2009, and hopefully to a continued international interest in the efforts that Mozambique is making to improve the health of its people.